This Side Up Moving Company is a full service moving company that helps families and businesses relocate with ease. We are locally owned and operated from Madison, Alabama, and are also properly licensed, bonded and insured to perform residential and commercial moves within the 48 contiguous states. Condominiums, apartments, offices and homes of all shapes and sizes are commonplace in our world. Our years of experience, quality equipment and expert planning facilitates the preparedness that results in a successful move.
What makes 

Huntsville, AL 
an ideal place to relocate
?
We work and study hard, but we know how to kick back and have a good time too. You'll be hard pressed to find a weekend out of the year when there isn't a unique festival or celebration happening somewhere in town: Panoply, the Monte Sano Art Festival, Rocket City Brewfest (beer!), Oktoberfest (more beer!), WhistleStop (beer and barbeque!) are just a few of the biggies. Plus, there are so many places open year round to visit and enjoy, it could take you years to cross them all off your list. Of course there's the world renown (and rightfully so) Space and Rocket Center. But other fun and less famous spots include Huntsville's world-class Botanical Garden, Lowe Mill Arts and Entertainment, Big Spring Park, the Huntsville Art Museum, Monte Sano State Park, over 70 miles of public hiking trails maintained by the Land Trust… the list goes on! And we haven't even mentioned yet the rich and varied entertainment and cultural options! Huntsville is home to a symphony orchestra that rivals the quality of any major metropolitan orchestra. And Huntsville's recently renovated Von Braun Center hosts an incredible variety of Broadway shows, high quality local productions, exciting sports events, and major musical acts. Plus, Huntsville's downtown is booming. A major downtown revitalization effort has already brought in trendy new restaurants, bars and shops. It can be hard to know where to start exploring the city! Don't worry–the team at Our Valley Events can point you in the right direction.
When do people move?
About 45 million Americans move every year.
In 2016, Texas received the most movers in the U.S. but on average it is usually Florida.
The average American moves 11.7 times in their life.
Half of all moves happen between May and September, probably due to summer break and a lack of major holidays.
Friday is the most popular day to move on average.
Sunday has the least amount of moves on average.
The average number of boxes used in a move is 60.
The average household moves about 6,500 pounds.
Fill this form to get your free estimate!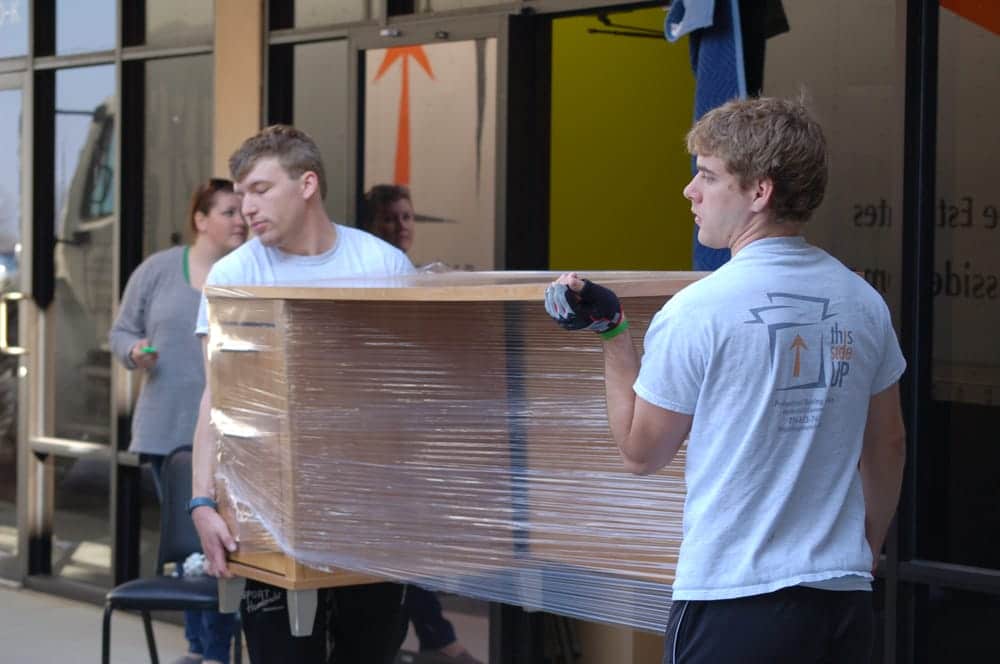 Testimonials of Our clients
Our move was kind of last minute and TSU helped us get it done. Mardrell and Zach came out and done a quick assessment and got it all moved in a few hours - thanks guys.

ChiefOfMe52
00:21 03 Jun 20
My daughter needed to move from Madison, AL to Lubbock, TX recently. She was able to do her own packing, but we wanted a company which could move her belongings quickly to her new location. We arranged to move with This Side Up's smaller local service instead of the National Van Line they also offer.She wanted to be there before the movers got there, so she left a day early, and I handled the move on the Madison end. Deshawn arrived promptly, and he and his partner worked quickly, efficiently, and carefully. They were considerate and professional. They arrived in Lubbock just a few hours after my daughter did. They made a trip to the storage unit and then moved the rest of her things to her new 2nd-floor apartment.My daughter was very pleased and impressed with the quality of the move and the courtesy of DeShawn. She was so grateful everything went quickly and smoothly!The final moving cost was actually lower than the low end of the estimate I got when I planned the move with the owner and manager. Deshawn said she did a great job of packing and organizing her things, and I think that helped. But the men also worked quickly on both ends. I highly recommend this company for their professionalism, care, and efficiency! We would definitely use them again!

Julie Gobbell
23:46 02 Jun 20
I literally can't say enough good things about this company. I've had so many unpleasant experiences with moving companies in the past that every time I move I get a little skittish.. I am so happy I chose this company. I had the pleasure of having Madrell and Zack as my movers. To say that they are a powerhouse team would be an understatement, these young men moved my entire home with such passion and precision you would have thought that they were moving their own belongings. Madrell & Zack were on time (in fact a few mins early), professional, and the quality of their work should speak volumes for the entire moving industry. If you are looking for the best value for your money, choose this company. I promise you will not regret it.

Kevin Melvin
22:06 02 Jun 20
My husband and I had been in the moving business for over 40 years. This was the first time we were the shippers. Our crew was Shayne and Jackson. They arrived on time and were very friendly and professional. Our stuff is going to storage and we hope that we get them on delivery out. Thank you Shayne and Jackson for putting us at ease with your great attitudes and professionalism. We truly appreciate it.Thank you again!!Chip and Toni

So let me tell you a story about how we booked movers from Steadfast Moving who showed up on a 3 hour job, worked 40 minutes and bailed on us with no notice. The guys at This Side Up Moving completely stepped up the plate and bailed us out. I could not be more thankful or appreciative for their efforts, professionalism and courtesy. They helped us out of an extremely tight spot in the best way possible. Would absolutely recommend and use again.

Marcus Nichols
23:37 29 May 20
Spoon, tyler and Ben really came through for us in a pinch today and saved us. Our scheduled movers from steadfast movers worked 30 minutes on our apartment and ghosted us without even saying a word, up and left the job. abandoned Furniture in the hallway of the apartment, truck open, keys in it. total unprofessional job. This side up moving came in with a clutch rush job, got a crew of guys out there and these guys killed it. They were fast, organized, professional, clean, and courteous. I just have nothing but wonderful things to say. 10/10 recommend.

Steve Kraft
22:03 29 May 20
When we were able to return to our home after having water damage, Shayne, Nate and Jamaar were so great at moving us back in! We highly recommend them!

Angela Pettus
14:56 26 May 20
Mardrell Kirby and Nate were outstanding in our 3 bdm move! We were supposed to have 3 movers, but due to unforseen issues, it was just Mardrell and Nate. They quickly got to work, and never stopped moving. They were very careful with our goods and were very efficient at the same time. Can't say enough good about these movers!

jeffrey hart
00:38 23 May 20

Karla Parker
18:48 09 May 20
Recently, my wife and I had a 2-truck team help us with a big items move. We could not have been happier with their overall helpfulness, attitude, and professionalism. Each team member went over and above to make the move successful. Despite unforeseen hurdles like a steeply graded driveway preventing them from normal loading, they simply parked in the street below, hauled things down the grade, and never complained/never wavered in focus. This individual attention to detail/attitude reflected tremendously on ThisSideUp, as a company. We will be sure to recommend this company to anyone in our circle of influence needing help with a move.

Top-notch moving company and crew at This Side up. I just had my first move with them today for some heavy equipment and inventory for my business. I needed a very on-time move, and am on a tight budget. Matt texted soooo many times helping me figure out something just right, with prompt and helpful responses. What really impressed me, too, was how thorough the intake call was- making sure they understood the need.The crew (Alvin and Devin) showed up exactly on time, worked hard and fast, and were very kind. My only wish is that the company make sure to support them with really good shoes! I have never seen any moving companies do this - but I think TSU is of the caliber to do so.

We had 4 wonderful movers.They did an outstanding job. The names of the movers are:Mandrel KirbyShayne MitchellAlec HiggenbothamNate HilliardThey were from Huntsville Alabama 5 May, 2020Mckala Harrell

Mckala Harrell
18:17 05 May 20
We could not have had a better experience with our crew from This Side Up Moving. Shayne Mitchell, Alec Higginbotham, Antonio Brown and Jackon Davie were careful with all our belongings, professional and kind to our family. They worked quickly and carefully and got the job done hours sooner than I had thought.

Kathy Livermore
15:26 27 Apr 20
Our team consisted of Shane, Dee, Alvin, Nate and Alec. They were all professional gentlemen that were eager to help out in any way and went the the extra mile in doing some extras for us. Unfortunately the inventory assessment by email was probably not the best idea since it took two days to move us out rather than the one day scheduled which put us behind a day in moving in to our new house. From past moving experience, I believe in-home evaluations are more accurate. We had a few small pieces arrive broken due to the boxes marked "fragile" being packed into the trucks too tightly. Overall I would recommend TSU moving company!

Lynda Dunton
14:09 18 Apr 20
I called This Side Up at 4pm the day before we started moving. My husband and I thought we could handle it but it quickly turned into a job too big for us. They got us a team out the next morning at 8am and we were done and unloaded in just a few hours. Very great team! They wrapped everything and made sure they unloaded everything wherever I wanted it. 10/10, we couldn't have done it without them.

Jessica Farrell
20:50 11 Apr 20

Chad Bright
19:21 10 Apr 20
The moving personnel were absolutely professional. They were so carefully in moving furniture up and down our stairs, never bumping the walls or the furniture. Even more appreciated was their patience while I decided on where several key pieces should go in the room. They moved them several times and offered suggestions. Always with a calm attitude and a smile, they made sure I was completely satisfied with the placement of all items. I would definitely use them again and again.

Carol Umstaedter
21:38 18 Mar 20
We had our household moved from Alabama to Tennessee and our team was great to work with. Nathan and Jordan both, were very professional, accommodating to our specific needs, and moved all of our possessions with ease. From our first contact at the office with Chelsea, through the entire move process, everything was a great experience. I would highly recommend this team and company to do all your moving needs. Thanks again for all your help, it was greatly appreciated.

Penny French
12:07 18 Mar 20
Antonio, OGie, and spoon did a greAt job!! Recommend this company ( Huntsville Moving Service)!😀

Christina Lewis
19:32 16 Mar 20
Being a Supervisor at Alabama A&M University I've learned to notice good work ethics and qualities something that came to mind as soon as I've had the chance to supervise Antonio and Spoon. They always accomplished every task in a timely professional manner. I couldn't ask for a better crew with assisting us here at Alabama A&M University. As you may notice I labeled two guys as a crew and there work speaks for itself.

Timothy Lemons
14:42 12 Mar 20
We've experienced very good work ethics from Spoon and Antonio since theve been on campus assisting us on different projects. They've helped us out tremendously . We really appreciate their presence up here on the campus of Alabama A&M University. We look forward to working with them on future projects.

Reggie Crutcher
14:35 12 Mar 20
Quality work and professionalism was great. Spoon and Antonio always was on time worked hard and was very kind to all employees. I will refer them to anyone. Good job guys!

Chris langham
14:33 12 Mar 20
This Side Up is the most professional and friendly moving company we have ever used! From their care in packing to their concern while loading we were in great hands. Without a doubt we will call them again for our next move.

Cindy Richardson
01:18 09 Mar 20
Alec and Shayne went above and beyond what was required of them. I can't say enough good things about how kind, professional, and meticulous they were. I could tell they are passionate about and committed to their job. Not only did they move everything with care, but they also helped me move another piece of furniture that another company failed to place properly. I would recommend this company (and these two men, specifically) to anyone!

Shelby Carson
04:55 08 Mar 20
Spoon, Tim, and Tonio did a great job moving very awkward and heavy laboratory equipment. They made sure to no hit any of our narrow doorways and worked well as a team.

Sarah Nelson
15:26 04 Mar 20
2 guys moved a 10x10x15 FULL storage to a house 5 miles from storage. 4 hours 431.25 plus tip. We will use them again. Nothing broken or scratched. 👍

Stephen Wisener
00:42 04 Mar 20
I manage all logistics for Huntsville City Schools and TSU Moving has been our partner for over 6 years. I depend on TSU to handle special and routine moving projects, both big and small. They have helped us close, move, and open entire schools/facilities without issue. Also, TSU has consistently been the best value for our dollar, beating out several competitor's prices. Today, I want to give a special "shout out" to Nathan, Spoon, and Kenneth for their recent work at the School Board Headquarters near downtown Huntsville. Five Star effort by all these gentlemen! - Lontrell Harris, Huntsville City Schools

Lontrell Harris
20:32 03 Mar 20
Ingram, Vernon, and Kenny did a great job moving all of my things in a very professional and timely manner. Not to mention, the price was ideal, too! Would recommend this company for anyone in the area needing to move!

Casey Bolton
19:02 29 Feb 20
This company has been a life-saver for us. They were dependable, on time and within budget. Their staff was extremely professional. Tone and Spoon were both so helpful, friendly, and courteous...not just to our staff but also to our business processes. They did not get in the way of business! And I think that's what we appreciated the most. They came, did their job with excellence, and made life easier for us. I would hire them again in a heartbeat!

ANTWOIN DAVIS
20:24 26 Feb 20
This Side Up did an AWESOME job with our move. Dee Henderson & Tyler Ingram were fast, strong and professional. A great team. We will use This Side Up again

Cathie mcdaniel
13:08 23 Feb 20
Outstanding moving experience! From the booking to the final item off the truck, nothing but professionalism and courtesy. Thanks to Chelsea, Shane, Jordan, and Devin for the great experience!

Tim Quaife
01:48 16 Feb 20
We moved from Madison To Harvest - so, not too far - but we had quite the load. From the first phone call to set up an appointment for an estimate to opening the last box, this moving company was superior. Friendly and courteous, they all seemed to genuinely enjoy their jobs. It made for a very pleasant experience. No issues with breakage or missing items. They arrived according to the schedule - so we never had to wait around. We have moved a few too many times. I wish that the previous times we had used This Side Up Moving. Thank you to Brent and Alvin and to the entire team of professionals.

SeSee Munson
22:26 07 Feb 20
Great service! Professional staff!

Sherrie Mitchell
02:03 03 Feb 20
Couldn't ask for a better group of guys. Thank you.

Great move! These guys were awesome! Jordan B., Vernon,, Dashore

Peter Simpson
20:04 01 Feb 20
Great Company! Excellent professional customer service by office staff and employees.

Susan Zimmerly
20:52 15 Jan 20
I am wowed! Peyton and Rashun were such amazing help for my single hands today during my move! They were very swift, getting everything in out and back in again so fast! I am so happy they moved me today. Without them, my life would've been a disaster!!! They are great spirited guys that actually care about your things. I would rehire this service anytime. Highly recommend!

DitaBerryProject TV
17:50 21 Dec 19
This Side Up completed our October move from home to storage unit in as efficient, courteous, and professional manner as possible. When one of the storage units we had wasn't able to hold more, one of the movers was able to navigate to the back of the other nearly full one to place our remaining belongings while keeping them in pristine condition. I cannot recommend this company enough.

Adam LeCroy
15:36 13 Dec 19
Fabulous experience from start to finish! Received a thorough quote from Matthew Street. He was very professional and easy to communicate with. The movers who helped us were incredibly professional and polite. They worked hard and FAST! Really appreciate all the hard work from Mardrell Kirby, Ethan Morris, Martavious Birt, and Rayshawn Petty!!! Those guys are amazing and strong! Very polite and courteous, and took great care with our furniture and home! Can't say enough about this great company and group of employees!!

jessicatmcnair
05:40 29 Nov 19
We hired them twice because they did a great job. nuff said

Carmen Nebrasky
04:30 19 Nov 19

Katie Butler
22:19 29 Aug 19
This Side Up Moving saved the day for our family! We were moving an entire house of antique furniture and other belongings to five separate locations (four homes and one rental truck). Shayne and Alvin packed their truck so that everything was in order. Once it was all packed, we went to each home and they unpacked items for that home. They also helped us pack our rental truck that we were driving ourselves back to Illinois--we wanted to be sure it was packed correctly so that it would survive the long drive in an over-sized rental truck. Everything arrived exactly as it was--no scratches, dents, broken glass, etc. Shayne and Alvin were great--they were so pleasant to work with! They were professional, on time, friendly, and knowledgeable. I would highly recommend This Side Up!

Lee Ann Huang
14:04 20 Aug 19
This Side Up was wonderful! They moved me out of my home, stored my belongings for a week, and met me at my new residence immediately after closing. Mardrell, Alex and Martavious were on time, respectful, and worked hard to get everything setup quickly. I highly recommend This Side Up Moving of Huntsville!

Carrie Amerson
02:56 07 Aug 19
I would definitely recommend TSU Moving to any one. Shayne, John & Dillan did a great job on my local move. I also appreciate the quick response by TSU when the mover I had scheduled could not make the move. TSU made it happen. Thanks again TSU. Shayne, John & Dillan I hope to work with you again in the futureRichard Oliver

Richard Oliver
16:52 01 Aug 19
I can't say enough good things about this company We were moving from another state and very scared to hire someone we didn't know. We read the reviews for This Side Up Moving and spoke with Kristy. She made us feel very comfortable and that we could depend on her.As scheduled the movers showed up right on time ,stayed in touch with us and handled our belongings as if they were their own.Nathan, Kenneth and Jordan were so polite , professional and moved quickly.We will definitely be hiring them again to move into an apartment soon.Thanks,Dan and Susan Fagan

susan fagan
15:40 25 Jul 19
These guys were great. They were on time and were very professional. Finished early. Will definitely use again.

Tracy Sedlmayr
15:19 25 Jul 19
Just don't pick any other company. I like them so much that I plan to call and ask if they can drive back up (we moved one state over) and move our stuff within our new city. The movers were PROFESSIONAL, POLITE, and RESPECTFUL at all times. In fact, the manager, at the storage facility, was very impressed with the movers and noticed a huge difference in the way they handled our things. #verypleasedcustomer

Mardrell and Shane were great during my move! They moved me into my 3rd Floor Apartment in the heat and were so professional/efficient. I'd recommend This Side Up Moving to anyone!

Brittany Finley
13:35 19 Jul 19
They movers unloaded us, they were courteous and hard workers. They didn't complain or doddle. They were respectful tward me and my children while my husband was at work. HIGH RECOMMEND!

Joshua Lindsay
14:06 11 Jul 19
Hugely professional and reliable and EASY to work with. My partner and I were moving and had a company just not show up for us, and not only was This Side able to book us basically immediately, but the move itself went at light speed. We were comfortably set up at home before we blinked. Can't recommend them enough!

Rose Osborne
17:04 21 Jun 19
We moved from a ranch to a 2 story at the end of May. Despite the heat, Nathan, Nick and Rashun hustled! They were very careful with all our furniture and so conscientious. I recommend This Side Up Moving.

Michelle Dunn
22:34 05 Jun 19

Kory And Marty Alfred
12:30 03 Jun 19
They are very professional and hard working. We actually ended up with less items than our estimate but they still had to make two trips over two days which ended up costing us quite a bit more than estimated. Wish they would have brought a bigger truck to fit our estimate. We also lost time the first time due to the lift on the first time failing which couldn't really be helped. Overall it was still a good experience.

We recently had the best moving experience ever! This Side Up Moving of Huntsville, AL did us right. Nathan and Kenneth were on time, very professional, courteous and moved our daughters furniture efficiently and as it was their own. I highly recommend This Side Up Moving of Huntsville, AL and their awesome team of professionals!!

We cant say enough about our moving team from This Side Up Moving !! Jessie, Ray and Christian went above and beyond to make our move Perfect !! We moved 326 miles away and these guys were very knowledgeable and professional. We will recommend this Company to everyone!!!

Tracey Weaver
16:47 09 Feb 19
I would like to give Side Up Moving of Huntsville the highest review I can. We were moving our real estate office, Zeriss Realty, to another location and contracted with the company to handle the move. Bradley and Christian arrived on time, were most professional, and handled our items like they were theirs. We appreciate everything about the moving experience.Walt Hennessee, Zeriss Realty, Owner/Broker

Walt Hennessee
20:51 29 Jan 19
Excellent, timely service for moving and at a reasonable rate. Special thanks to movers Austin and Christian.

Jack D. Ellis
16:11 29 Jan 19
We moved my aunt from an apartment to assisted living, which was stressful in and of itself. Julian and Christian were friendly, helpful and professional. They were efficient and careful with her belongings, as well as kind to her. After setting up her furniture in her new room, they delivered the remainder of her furniture to our storage facility, easily fitting everything into a tight area. I was very pleased with the service they provided.

Michele Denton
01:49 25 Jan 19
Thank you, Ray and Jessi for an easy move. We so appreciate your skill and goid work ethic. This is the third time we used This Side Up. We will definitely use you in the future.

Angela Collier
23:29 05 Jan 19
Just got finished moving everything into my apartment. I had Jessie and Ray and they were great. They made sure everything was properly wrapped and were great to work with. I had many military moves and I wish they would have had guys like these during them all!

Joshua Hall
21:49 27 Dec 18
My movers were Ray, Mardell, and Jacob. They were extremely friendly, professional, quick, and went above and beyond all my expectations! Nothing was damaged, or got wet even in the rain. They also asked which rooms I wanted my items in. All of them were great.

Brown Skin, Kinky Hair
19:09 21 Dec 18
Second time I've used This Side Up & highly recommend. Austin & Mardrell were great! They were professional, quick, took care of my belongings, & had great attitudes - all while moving us in the pouring rain. Moving stresses me out immensely & they made the process very smooth!

Allison Torello
18:17 03 Dec 18
We used This Side Up for a home move across town. The team showed up the day before to move for packing - very neat, prompt and professional. The day of the move went smoothly and we are very happy with the level of service, friendliness, and professionalism from the crew. Pricing was fair and our experience was excellent. I highly recommend This Side Up!

Chris Tucker
20:27 08 Nov 18
We had an awesome experience with these guys. They helped my grandmother move into her retirement home. We called them last minute and they took care of us anyways. But be sure to call and schedule ahead of time (not like I did). They stay busy because they do a great job.

Functional Chiropractic
23:35 06 Nov 18
My last minute move gave me panic and anxiety and I thought I would never make it and then Miss Elaine called me and calmed me down and took great care of me! I can't say enough great things about the 2 young men that moved me! Ray and Louis were absolutely amazing! They came and rocked it out like it was nothing! Great job and I highly recommend these guys and this company! They will take such great care of you and lift a huge weight off your shoulders!!!!!

Tiffany McDaniel
15:32 02 Nov 18
I highly recommend moving with This Side Up. The office staff was very friendly and professional. The movers exceeded my expectations. 5 stars!!

Sean Coleman
17:56 31 Oct 18
Had to do a quick move. The team at This Side Up were able to accommodate me with my last minute request. They were super professional and totally removed the stress of the move.

Christopher League
15:31 31 Oct 18
You can't beat This Side Up for quality professional service. They worked with me on a small job that I thought wouldn't be worth their time, and I was treated like a much bigger contract!

Alanna Frost
20:54 30 Oct 18
Top notch movers, extremely professional, treated everything with care, they were on time, and made the overall moving experience seamless. I highly recommend!

Marie Kaas
15:22 30 Oct 18

Jeff Maynor
03:23 20 Oct 18
This Side Up is my go to company for our moving needs, Joey and Bradley where very professional.

LaCresha Walter
16:27 12 Oct 18
This Side Up moved me within the Huntsville/Madison area. The movers Lewis and Steven were courteous and professional, and they treated my belongings with care. I was quite pleased -- there was no damage to any of my furniture. I would use This Side Up again.

Kurt McCall
20:29 01 Oct 18
Great experience! They were able to provide quick, next day service. Ray and Mardrell were courteous, professional, extremely fast and knowledgeable. I couldn't have done it with those guys! Many thanks!!!

Matt Parton
21:30 27 Sep 18
Highly recommend This Side Up. This past Friday they did a local move for me in 3 hours that would have taken me all weekend. The crew did a great job. Last time I used them was in 2012, and they have gotten even better since then!

Christian Brackbill
14:52 27 Aug 18
This was a great move. The guys were on time and fast. I had no broken items. Elanine ( the receptionist)was great and helpful. I highly recommend them and would definitely use their services again

rhonda acoff
18:40 09 Aug 18
Great Team, polite, personable, professional, respectful... thanks John Wright, Adrian Peebles, Kenneth Turney, Isaac Holloway!

Daniel Sim
05:00 19 Jul 18
Julian, Joey, and Darian moved me around the block and it went really well. The price was reasonable, estimate was good, and i would use them again to move me across town. Everything was packed up well and made it over to the new place. They asked lots of questions, but also worked very independently; they were all polite and professional. It was an extremely hot Alabama July day and they kept working right through it, minus a short lunch. Things really started to drag in terms of reset up of my things and I would complain if it wasn't a feels like 110 day (I blame the weather for what I figure was about 30 minutes). The negative, and non-5star rating, comes from 3 small things. The strike plate on the master bedroom door was bent, and a corner of a press-board (low quality) bench for my entryway was cracked. Both not a big deal...but no-body told me. And last negative no runner/pad was used to protect my new entry way floor, but luckily it didn't result in damage. And the ultimate review; they didn't ask, I bought them lunch and tipped them because i wanted to.

David Cybuck
15:30 18 Jul 18
This side up unpacked our household goods when they arrived. They did a great job, very professional, and fast. They made sure that all our questions were answered before they left our house. I'd like to say thank you to Ethan, Jessie B, and Anderson. They did a great job!!

Brandy Camera
15:42 04 Jul 18
I went to my cousins house to pick up a few things and while I was there the moving crew from This Side Up was doing such an amazing job I had to get the crew members names so I would know who to request for my move next month. Julian and his crew did a fantastic job and were very professional, my cousin would recommend them to anyone she knows and I am very excited for them to handle my move!

Ginger Williams
01:06 30 Jun 18
We called several different movers to give us estimates for our move to Birmingham. This Side Up was incredibly courteous and professional from the moment I called. John came out to do the estimate on the house and he was very thorough and explained the whole process of my out of town move; I shared my past bad experience and he told me how his guys handled all the furniture and what to expect. John even called to follow up after I received the estimate to see if I had any questions (no other company did that).When moving day came, Julian and his crew did an amazing job. They were polite, handled the boxes and furniture with extreme care and made me feel comfortable with how they were loading the truck. They asked questions and doubled checked with me to make sure they were doing what needed to be done. I will be requesting Julian and his crew to unload our furniture at the new house. I highly recommend This Side Up Moving Company.

Karissa Juday
00:54 29 Jun 18
The two guys this side up sent me yesterday Josh and Ray were the best movers I have ever had. They took time to make sure I was happy and my belongings were safe. Hopefully I wont be moving anytime soon lol but I will definitely recommend This side up moving!

Tee Larkins
19:38 26 Jun 18
This is a great job opportunity for Highschool/College students looking for work in the summer it has stable hours and is also a very professional work place. The job and it's movers are respectful and kind. It's a great job to have.

Abdul Mukiibi
22:14 24 Jun 18

Michael Whiting
18:40 21 Jun 18
The men at This Side Up Moving made our moving experience great! We had to move a lot of large furniture in a very short amount of time. They were even willing to help rearrange funiture once it was already in the new house. We received a fair price and nothing was damaged. Joey and his team were very easy to work with. I would definitely recommend them to any of my friends and family!!

Stanley Pluth
15:08 16 Jun 18
Josh, Jessie, and Payton were extremely awesome! They were professional, worked proficiently, and kept a great attitude with all the things I asked of them! Thanks!!!👍🏾

Front office worked hard to help us with our storage and moving needs. The guys on the crew worked diligently and were great to work with.

Chris Hunsberger
18:55 04 Jun 18
The initial estimate called for one truck, and our home ended up needing two. So the price was quite a bit higher than the initial estimate. I would recommend that they change the way they do their estimates. However, the movers themselves were polite and efficient. Nothing was broken, and not even a scratch on the walls.

Leigh Hall
13:34 08 May 18
Stephen and Jordan showed up on time and made everything super easy on us. Will be using again and request them when we move again.

Joshua Anderson
14:06 03 May 18
Steven and Derrick were great! We needed some furniture in our home moved and they were very professional. I will be asking for them when we need to have the furniture moved back after the repairs to our home are made.

James Jeter
12:51 01 May 18
Let's face it...moving is a pain in the a$$. This Side Up helped me TWICE, and both experiences were wonderful! At my last move, Steven and Jordan B. arrived on time, explained everything thoroughly, were extremely professional, moved quickly and efficiently, and were all-around great guys! Scheduling through the front office was a piece of cake. This Side Up is the ONLY local moving company that I will ever call!

Jennifer Anderson
20:10 12 Apr 18
The team that was sent to Alabama A&M University to move the items located in Carver Complex Thomas Wing, under the supervision of Mr. Tim Wallace and Mr. Sidney Davis, were excellent. Their customer service was great.

Queen Nashid
20:45 05 Apr 18
Tim and his crew did an awesome job!! Would definitely recommend them again and again!!

Wenona Brown
16:22 05 Apr 18
Steve and Adrian were great. They were on time, very positive and upbeat, ready to help us move. Our home had a steep uphill drive way and the guys could not get the truck in our drive way due to the lift gate. They parked in the street and carried our heavy furniture up the steep hill, with a smile on their faces the whole time. These guys were very professional and we will definitely call again! Thanks Steve and Adrian you guys ROCK!!!

Cynthia Dempsey
19:41 10 Feb 18
These guys show up when they say they would and do what they said they would do for the cost they said they could do it for. True professionals. They were super careful with some antique furniture we had and got it out from a tedious upstairs with 0 problems. Can't beat these guys.

Justin King
20:45 08 Feb 18
The guys were very courteous, respectful and professional. They moved things around for me several times until I was happy with the results with so much as a grimace. I would definitely use them again, and highly recommend their services.Tim and the Guys!

Yvonne Edwards
21:10 31 Jan 18
Josh, Kenneth, and Bobby Hill (Corey) did an awesome job! Recommend this company and these guys to help you move at any time! Thanks guys!

Jakeyah Williams
04:59 21 Jan 18
Strongly recommend this company. They were very helpful, professional and friendly about moving my items. Special thanks to Tim and AJ for making sure my items were moved safely and delivered to the correct location.

Petura McCaa
16:04 19 Jan 18
We just used This Side Up moving and they did a fantastic job. Very professional, kind and quick. We had an out of town move (about 2 hours away) and they were very thorough with going over everything such as liabilities, insurance, what I can opt out of, what I can get, expectations, responsibilities, etc. A shout-out to Michael, Josh and Corey! They all 3 did a great job. We would for sure use them again on our next move and recommend them!

Kevin Pendergrass
14:06 08 Jan 18
We've used This Side Up twice, and we had exceptional experiences with them both times. They are professional, and they get the job done carefully and expediently. If you are deciding between moving companies, This Side Up is a great choice!

Sarah Manning
21:10 21 Nov 17
This Side Up Moving went above and beyond for my moving needs. I used them for my home move, then later used them at the company I work for. Great group of Women and Men. I look forward to doing business with them again in the future.

Jonathan Owen
15:16 31 Oct 17
I am so pleased with our service today!! We had a seamless move and I would recommend them to anyone! I am so glad we hired movers and this company went beyond to meet our needs.

Laura Gossett
23:53 08 Sep 17
I was really impressed with the mix of young energy and sophisticated business practices. Having seen this company grow, I can confidently recommend them as Noble, upstanding people who truly care.

Kaia Noble
14:45 08 Aug 17
This was our second time using this company and just like the first time, this experience was great. The movers arrived promptly and immediately got started with loading up boxes and furniture. Although this was just moving my daughter out from our house to an apartment, there were still a lot of items to move. The movers were professional, efficient and hard working. The move was completed quickly but they ensured that everything I needed to be moved was moved. I recommend using this company for your move; I plan on calling them for our next move.

I've used TSU for many years now. For moving household items, to office space, and server racks. I have been thoroughly impressed with their office staff's professionalism and the excellent handling of the movers. I recommend this company to all who want the job done promptly and with no worries that your items will be taken cared of.

Darius Davis
14:57 14 Jun 17
I can't thank Colby Robinson and his team enough for helping my family with the first half of our move. It's an unavoidable that moving always occurs during a high stress time, and having a responsive and flexible business willing and able to meet our evolving needs made a huge difference for us. The entire process, from obtaining our estimate, through the packing and loading process, to their meticulous packing of our storage facility, was organized and professional - well worth the affordable cost. We are thankful we had This Side Up Moving to help us through our transition, and will be contacting them again to move us into our new home this fall. I always highly recommend them to anyone looking for a quality moving company.

Ryan Manning
15:30 08 Jun 17
Used This Side Up on 4/27. The crew arrived on time and didn't waste any time. Mo and Jarvis were fast, friendly and took great care with my items. The house I was moving to was only 3 streets over so they weren't able to catch much of a breather. They did just as good of a job moving into the new house as they did moving out of the old house. I hope I don't move anytime soon but if I do, I will most definitely use this moving service. Kristy from the office was friendly and thorough with my estimate. From office staff to moving crew, I was totally satisfied with my experience.

Kevin Reed
12:30 08 May 17
Very professional, very caring of our belongings, and would highly recommend!

Jamie Scoobs
20:29 02 May 17
Best moving company I've used -- And I've moved a lot. Patient with me and gentle with all my stuff. Thanks guys!

We had the absolute best experience with this company! My husband and i have moved a lot in the last 11 years. We have never had a better move than the one with This Side Up. They are very professional and went above and beyond our expectations. I am one who shops around when doing anything of this altitude. Save yourself the time and trouble...just call This Side Up. They are the best! (also very economical)

Marty Alfred
16:44 24 Feb 17
Great management! Harry Field is awesome!

melinda chisholm
00:42 16 Dec 16
I was very impressed by the level of service and care from This Side Up Moving. They were very professional and helpful in my moving needs and were a pleasure to deal with.

We've had bad experiences with movers in the past, but this side up was seriously great! very professional and always timely in getting back to me. Highly recommend them.

Vivian Jules
00:00 15 Dec 16
All my life I've driven a pick up truck and I've always been the guy to help others move. It was so nice to have the shoe on the other foot. No bruised knuckles or sore back. Awesome Service!

Hollywood Cater
23:55 14 Dec 16
I contacted This Side Up a week before my move and they worked with my schedule very well. I was only moving two blocks away (into The Avenue) and even when I had to reschedule the day before due to my apartment not being ready they were very gracious and accommodating. The day of the move went smoothly. TSU's movers were professional, kind, and handled my furniture with care, which is what I was most worried about with hiring a moving service. 10/10 will hire again! Moving is a stressful event for everyone, and the fact that TSU handled all of the moving smoothly made my day so much easier.

Taylor Presley
22:25 14 Dec 16
TSU did an intrastate move for us - about four hours driving time away. They were professional and courteous in every way, very careful with our belongings, and efficient in their loading and unloading. I will definitely call them again when I need professional movers. We had to make a last minute change in our move (having some pieces dropped off at a stop along the way) and they accommodated our change with no problems at all. Also, their lower minimum requirement (1500 pounds versus 3000 pounds for some others) made them significantly more competitive than other movers that include "two men" in their name.

Andy Collier
21:25 13 Sep 16
Location in Brentwood, Tennessee.

Misty Boyd
15:23 13 Sep 16
Greatly appreciate the great job relocating us from AL to VA. Hard working team!

Ruth Shaulis
20:22 24 Aug 16
Joseph and Nathan from This Side Up helped me with a complicated move between 3 homes. They worked hard and were very conscientious and considerate. They protected both the furniture and the doors and floors. I highly recommend them.

Debra Terrell
15:35 05 Aug 16

Chris Hunsberger
01:35 07 Jun 16
We needed help unloading a 20 foot moving truck into our apartment in Huntsville. TSUM sent over two guys who were quick and professional. The truck was unloaded in under two hours, and they carried in an elliptical that took four people to carry down from our old place. No damage to our things or apartment. When we move into a house in a couple months I will hire then again.

Todd Dutton
17:51 03 Jun 16
Wow, This Side Up Moving Company helped me during back to back stressful moves. They not only helped me relocate two offices into one they also helped me move from one house to another. As you all know moving can be stressful but with their professionalism, care for my items and speedy service this was by far the best moving experience I have ever had! I highly recommend This Side Up Moving Company for all of your moving needs!

Christine Childress
23:46 07 May 16
The movers from This Side Up were very professional and did a great job. The crew chief discovered a billing error before they got back to the home office, turned around and came back to make it right. Honesty, reliability and integrity. I highly recommend this moving company!

LaTonia Powers
18:06 21 Apr 16
Colby Robinson & his team are great. Extremely professional. We had great communication with Colby, whose passion for his business is evident. I'd recommend him and This Side Up for any project you have for them!!

Teri Hasemeyer
20:31 08 Apr 16
My experience was excellent. The crew was prompt to arrive, efficient to load, and very careful with my antiques. They were a pleasure to work with.

Fletcher Kurtz
02:55 03 Apr 16
The movers were personable and professional. These guys can move an entire apartment (3rd floor) to an another 3rd apartment in no time at all! Definitely recommend these guys for ANY moves.

Justin Pearson
14:14 18 Feb 16
I called because my Tax person said she used them to move her office and Recommend them, they gave me a price and schedule and time, on time and completed the move just under 3 hrs. men were great and quick if you are looking for a good company to move you please call them.

Rae Maloney
21:14 12 Feb 16
I can't say enough great things about This Side Up! They were quick, courteous, and professional with a great rate. The crew was careful with my items and knew just how to load the truck to get everything in one trip. I'll definitely use them for my next move and will highly recommend them to others. Thanks to This Side Up for making my move as quick and painless as it can be!!!

Ashley Linares
16:13 20 Jan 16
I had a great expreience with This Side Up moving. I am a manager at The Food Bank of North Alabama and I have been so impressed with how This Side Up has gotten involved in serving their community, through using their trucks each month to deliver food through hungry children and also sending their staff to volunteer at the Food Bank.

Laura Fincher
16:01 15 Jan 16
Movers were on time, professional, and quick! I hired them to move a small apartments worth of stuff across town and it was done without a hitch. The movers were careful with my things and I was really impressed with the owner. I wouldn't hesitate to call them again.

Dogs Eating Chips
17:59 14 Jan 16
I have the utmost respect for the guys who helped me move. They were pleasant, dependable, and stress free as always. Thanks again!!!

L Laughlin
14:34 07 Jan 16
My mother recently purchased a new couch in Huntsville but the store not able to deliver it in a timely manner. We called This Side Up and they were very accommodating to squeeze us in last minute. The movers were extremely professional, even offering to move the old couch out and rearrange some things for her. Great prices and punctual...highly recommend!

We chose This Side Up to move us after getting quotes from three other moving companies and were very glad we did. The entire staff was courteous, professional, and caring. The movers were very fast and efficient. They were very careful and prompt. My only regret is that I have not used this company before. I highly recommend that anyone who is moving to call these people. You will be very pleased with the results, guaranteed!

tarlombard
19:35 11 Nov 15
This Side Up was puntual, professional, and extremely helpful! They made our moving process much easier than we were anticipating. We are very impressed with the quality of service that they provided.

Elizabeth Cole
19:34 24 Aug 15
We had a wonderful experience with this company. They did 3 truck loads in ONE DAY! They stayed at the cost of their original quote. They were very careful with our items. The guys that were on my crew were VERY respectful, patient, and kind. I would use them again any day! I just cant say enough great things about this company! Thank you for all of your hard work and dedication to my move!

Kristi Sears
17:45 29 Jul 15
The movers called ahead and were on time. They were polite, careful (in the house and on the road), and had everything finished in less time than quoted. Overall great experience.

Neeley Kelley
20:21 06 Apr 15
This Side Up recently moved my family and did a PERFECT job! They were punctual, professional, careful, and fast. I have recommended the guys at This Side Up to family and friends and will continue to do so! They were great!!!

andrew sieja
15:53 20 Feb 15
Professional and Polite throughout the entire process!We used This Side Up Moving to move into our new house and we couldn't have been more pleased with the service. From the accurate (free) estimate to the courtesy calls to the friendly guys that loaded the truck, This Side Up Moving definitely eased the stress of moving for us and I would recommend them to anyone.

Brianna Sieja
16:02 18 Feb 15
My move experience with TSU was awesome! I was at work pretty much the whole day while my wife handled the move process, and not once did she feel uncomfortable or feel like our stuff was unsafe. That means a lot to me that there are movers I can trust not only with my stuff, but movers I can trust with my family as well. The move went quickly and smoothly. The guys were very efficient and Colby gave us a great price, especially considering we had A LOT of stuff to move - some of it very heavy/expensive. Overall, great job by TSU moving and I continue to recommend friends and family to them for there moving needs around north Alabama.

Jason Cunningham
18:19 07 Nov 14
We moved house using This Side Up, in September. We were very pleased with the service; everything went smoothly; the crew arrived on time; nothing was damaged; the movers were pleasant and professional; and the owner, Colby stopped by personally to make sure everything was going well. I'd definitely use This Side Up again.

Karen Rice
22:13 27 Oct 14
We have used This Side Up Moving twice this year. Once for moving in our new home and recently for my mother-in-law,. Both times they were careful, professional, on time, and willing to do whatever was asked. Marcus and Zack were so patient with my elderly mother-in-law. We will highly recommend This Side Up Moving to anyone needing to move, whether it's local or for a long distance.

Michael Bish
20:53 23 Sep 14
The guys at This Side Up made our moving experience great! They moved alot of large furniture in a very short amount of time, for a very fair price, and absolutely nothing was damaged. They were even willing to help rearrange funiture once it was already in the new house. Colby and his crew were very easy to work with. I would definitely recommend them to any of my friends and family!!

Stephanie Cunningham
18:59 29 Aug 14
These guys are awesome! I work in customer service so I know what providing great customer service is all about and Colby and his team do just that. Communication is great, they are time efficient, competitive in price, handle your items with care and just flat out get the job done right! I would recommend them to anybody and have already referred 3 people. I am hoping they get the business when the time comes. Overall great experience. I have never had a stress-free move…this time, I did!THANK YOU Colby and team!

Christina Goines-Large
19:50 09 Apr 14
My husband and I recently used This Side Up after getting several recommendations around town to. Colby and his employees were fantastic; we had to reschedule several (like more than 5) times due to various problems and he was always very accommodating with our constantly changing plans. The move itself was very fast, efficient, and not one thing was dinged or scratched! Not to mention they are very fairly priced. Extremely nice guys, can't go wrong using them!

Caroline Frame
23:32 27 Mar 14
This Side Up Moving did an exceptional job with my move! The gentlemen that were assigned to my job were very respectful and professional. Being part of a military family, moving is a constant (15 times in the past 25 years) and I must say that This Side Up was definitely one of the best companies we have used. I highly recommend contacting them if you are looking for a moving company whether you are moving across town or across the country. You will not be disappointed!

Rebecca Anderson
22:40 09 Mar 14
Colby and Deonte have been great to work with at This Side Up Moving. Full disclosure I have not used their services but being a property manager at iStorage Priceville I have worked with them and they have been nothing but professional and courteous. I have had customers who have used them and had great things to say about them and the services provided. For that reason I contacted them about a marketing partnership with my company iStorage self storage and they have been great. I would and do recommend them often.

Jason Nicklaus
20:06 22 Feb 14
Great value. Great to work with. They were careful with our furniture and didn't damage anything. Highly recommend these guys!

John Covert
17:32 10 Jan 13
We had a very positive experience with This Side Up Moving. Having only had experience moving ourselves, we were uncertain about hiring anyone to help, particularly since we were "simply" moving across town. But, as a busy working couple, we decided it was worth the expense to get help for all of our big items. We received a very fair and reasonable estimate for the big stuff. The movers were there when they said they would be, were quick and extremely professional and they didn't mind adding a few items that we had not originally counted as "big." This Side Up made it possible for us to move with the least amount of stress. I highly recommend their services.

Alanna Frost
01:06 02 Jul 12
I had a very good experience moving with This Side Up. Colby was easily contacted and responsive. His pricing was better than expected; especially considering how well the move went. I had an accurate estimate and when I ended up having to move a week earlier than anticipated, This Side Up was very flexible and made it happen for me. I would recommend them to all of my friends and family.