This Side Up Moving Company is a full service moving company that helps families and businesses relocate with ease. We are locally owned and operated from Madison, Alabama, and are also properly licensed, bonded and insured to perform residential and commercial moves within the 48 contiguous states. Condominiums, apartments, offices and homes of all shapes and sizes are commonplace in our world. Our years of experience, quality equipment and expert planning facilitates the preparedness that results in a successful move.
What makes 

Huntsville, AL 
an ideal place to relocate
?
We work and study hard, but we know how to kick back and have a good time too. You'll be hard pressed to find a weekend out of the year when there isn't a unique festival or celebration happening somewhere in town: Panoply, the Monte Sano Art Festival, Rocket City Brewfest (beer!), Oktoberfest (more beer!), WhistleStop (beer and barbeque!) are just a few of the biggies. Plus, there are so many places open year round to visit and enjoy, it could take you years to cross them all off your list. Of course there's the world renown (and rightfully so) Space and Rocket Center. But other fun and less famous spots include Huntsville's world-class Botanical Garden, Lowe Mill Arts and Entertainment, Big Spring Park, the Huntsville Art Museum, Monte Sano State Park, over 70 miles of public hiking trails maintained by the Land Trust… the list goes on! And we haven't even mentioned yet the rich and varied entertainment and cultural options! Huntsville is home to a symphony orchestra that rivals the quality of any major metropolitan orchestra. And Huntsville's recently renovated Von Braun Center hosts an incredible variety of Broadway shows, high quality local productions, exciting sports events, and major musical acts. Plus, Huntsville's downtown is booming. A major downtown revitalization effort has already brought in trendy new restaurants, bars and shops. It can be hard to know where to start exploring the city! Don't worry–the team at Our Valley Events can point you in the right direction.
When do people move?
About 45 million Americans move every year.
In 2016, Texas received the most movers in the U.S. but on average it is usually Florida.
The average American moves 11.7 times in their life.
Half of all moves happen between May and September, probably due to summer break and a lack of major holidays.
Friday is the most popular day to move on average.
Sunday has the least amount of moves on average.
The average number of boxes used in a move is 60.
The average household moves about 6,500 pounds.
Fill this form to get your free estimate!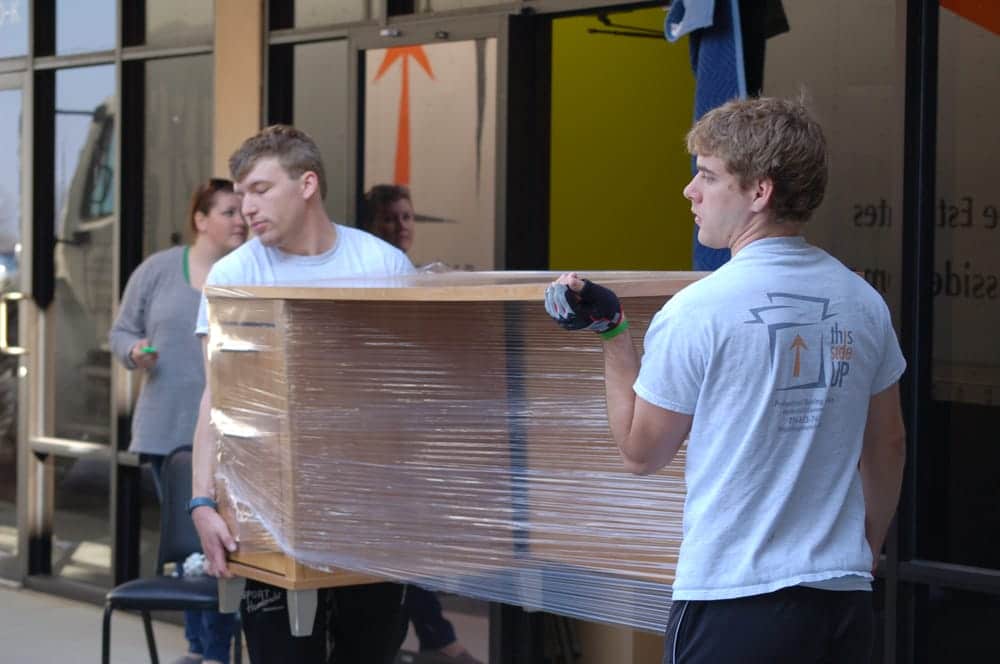 Testimonials of Our clients
This Side Up was very helpful and efficient. Ethan and Tristan got the job done in one fell swoop. Will definitely use This Side Up in the future.

Morgan McBride
16:31 23 Oct 20
Professional and safe team. Timely with knowledge of multi family move.Ethan, Jordan and Kenneth

Thanks to Ethan, Colton and Prince for help our move!!! Great job guys!

Brian Berry
16:26 17 Oct 20
We had a great experience with This Side Up Moving. From working with the front office (Colby, Cristy, and Mike) to the actual move (Ethan, Alvin, JJ, Mandrell, and Prince), we found the entire team to be very professional, courteous, and cognizant of our needs and concerns. If we ever move again, I will certainly call This Side Up!!! Note: I may have misspelled a name or two but wanted to give each person the appropriate praise deserved. Thanks!

This Side Up Moving went beyond what most companies do. They were very efficient and took care of my property as though it was theirs. I want to personally thank Ethan, JJ and Tyler B for and outstanding job. Ok

Donald Holder
20:13 15 Oct 20
De and Ben worked really well and very quickly. Would have been helpless without their wonderful help. Fantastically good humored, have saved this companies number would certainly recommend and use again.

Nathan Love
19:03 15 Oct 20
Wonderful, professional help from Dee and Ben. They called for arrival time, and completed the job in a timely manner. Great, friendly same day service. Highly satisfied.

Terri Love
19:03 15 Oct 20
Repeat customers! Awesome move every time!Ethan and Ben were very efficient and made the transition a complete success from one home to another! Will definitely continue to use this establishment as new chapters open in our lives!!!!

Rick & Sandra Holmes
20:03 14 Oct 20
Had the pleasure of using "This Side up Moving" a few days back with Ethan and Colton as my servicemen. They did a phenomenal job and I can't recommend this company more! Booking the service time and date went extremely smooth as well and the entire experience end to end was flawless. I have moved more times than I can count, and this experience was by far the best. Thank you Ethan, Colton, and entire support staff!

Melissa Harty
19:02 14 Oct 20
This side up moving was phenomenal. The process was easy and professional. Kristy was very kind and organized for all the scheduling. The team they sent were very respectful of us and our belongings. It poured rain for the load and the unload. Never heard one guy complain. They wrapped all furniture and handled with care. Great job by all.

Mike Middlebrooks
15:56 12 Oct 20
The movers arrived promptly and were extremely efficient and professional in all matters. I would highly recommend this company to anyone contemplating a move.

Kayand Frank
20:06 24 Sep 20
I should have contacted This Side Up Moving first. When my other movers failed to show up, I called This Side Up Moving. They got a crew out to help me load. Very polite and efficient movers. Would definitely use their services again.

Joseph Godlewski
14:36 12 Aug 20
Amazing service!! From the moment I spoke to Christy about quotes, to the three gentlemen loading up our truck for us to drive, there wasn't a moment my husband and I were unpleased with. There was never a time Christy became frustrated with us for asking for several different quotes, or a single time the guys loading us up weren't pleasant, hardworking and knowledgeable about packing a truck for a cross country move. This Side Up truly made our move easy and smooth... do yourself a favor and call them first.

Carol Lambert
22:29 11 Aug 20
I cannot say enough positive comments about this company. Promptly came and gave us an estimate and detailed communications about the process. Moving crew was very professional and took great care with packing and hauling all our belongings. Jordan, Nate, Alvin and Angel all went the extra mile to ensure that we were happy and our belongings were cared for. Very punctual and did exactly as promised. We will be moving our daughter in a few months and we will be using this company again!!!

Rick Holmes
11:39 25 Jul 20
Mardrell and Nate were great. ❤️

Savannah Phillips
03:34 22 Jul 20
We are very happy with the crew that came out today. mardell kirby, Tyler Ingram and Ethan Morris were great. They worked every minute they were here. Extremely polite and courteous. They packed our furniture with care and great attention to detail! I would highly recommend this company to anyone else and would especially recommend this crew!

Caroline Westfall
16:00 03 Jul 20
Recently Alec and Jackson moved my son to Pensacola from Huntsville. They were great!. My whole experience with TSU was excellent from the time I made the initial call to Colby until Alec & Jackson left Pensacola. VERY PROFESSIONAL! The whole team worked with us, even tho we had given rather short notice. The type of people you enjoy being around. Will definitely use on our next move!

Marie Kennamer
17:00 27 Jun 20
Jordan, Alec & Dylan were the BEST CREW ever! These guys were wonderful. They are hard working, sweet,funny, professional and experts at moving. They made a dreaded day delightful. They handled everything with exceptional care. I just can't thank them and This Side Up Moving enough! Thank you Jordan, Alec and Dylan for being absolutely fabulous! And, you're all cute too! We love you guys & we're so grateful for your outstanding work and skills! Thank you!

Ginny Collier
16:37 27 Jun 20
The movers, Mardrell Kirby and Colton (forgot his last name), did a GREAT job moving eight heavy pieces of furniture down some tricky stairs and landing. They even took on disassembling a task desk and removing a door just to get these and other bulky items out of the room. Once on the first floor, they staged furniture/items just right for donation pickup the next day. The rest they delivered to my storage unit and staged them in the right order as well! They were on time, worked within the timeframe of my estimate, and were cheery about it. They also laughed at my humor. From beginning to end, good job This Side Up! A+

Thank you for your great service. The young men that came to are homewere very respectful and careful. I would like to give them a 5 star.Thank you very much Beverly Foote

Beverly Foote
20:21 20 Jun 20

anadele desarme
17:51 20 Jun 20
I've used This Side Up twice within the last couple of years. Both times everything went smoothly. The people at the office are very professional, upfront, and flexible.This time around Ethan and Ben did an awesome job handling my recent move. Thanks again for everything!

Zach Barbeau
19:28 19 Jun 20
I am in the middle of an "intrastate" move requiring all of my belongings be put into This Side Up storage building until the house I am renovating is done.. I have been working with Kristy from day 1 and she has done literally everything she can to be responsive, to make sure I had everything I needed on move day including boxes, bubble wrap, tape, and was there to answer all of my questions. On moving day, Jordan B and Spoon were sent to my house and my 6 year old son instantly fell in love with them. Both guys included my son, kept conversation going as they were also doing their work, let my son look inside the back of the truck. By time they had left and I had my son in my car ready to go, he was calling Jordan and Spoon his "bro's" and would not stop going on about how awesome they were. That whole day will leave a big impact on him through the years! My stuff is now in their storage facility so I'm sure I will have more awesome stuff to add as time goes on. But I am absolutely impressed by every situation and conversation I've had with every single person at this company. Would highly recommend!!

Ethan and Kenneth were great movers. I was so pleased with the results. Not only was my furniture moved in safely, I also think we shared a few laughs along the way.

Banks Nelson
00:06 11 Jun 20
Our move was kind of last minute and TSU helped us get it done. Mardrell and Zach came out and done a quick assessment and got it all moved in a few hours - thanks guys.

ChiefOfMe52
00:21 03 Jun 20
My daughter needed to move from Madison, AL to Lubbock, TX recently. She was able to do her own packing, but we wanted a company which could move her belongings quickly to her new location. We arranged to move with This Side Up's smaller local service instead of the National Van Line they also offer.She wanted to be there before the movers got there, so she left a day early, and I handled the move on the Madison end. Deshawn arrived promptly, and he and his partner worked quickly, efficiently, and carefully. They were considerate and professional. They arrived in Lubbock just a few hours after my daughter did. They made a trip to the storage unit and then moved the rest of her things to her new 2nd-floor apartment.My daughter was very pleased and impressed with the quality of the move and the courtesy of DeShawn. She was so grateful everything went quickly and smoothly!The final moving cost was actually lower than the low end of the estimate I got when I planned the move with the owner and manager. Deshawn said she did a great job of packing and organizing her things, and I think that helped. But the men also worked quickly on both ends. I highly recommend this company for their professionalism, care, and efficiency! We would definitely use them again!

Julie Gobbell
23:46 02 Jun 20
I literally can't say enough good things about this company. I've had so many unpleasant experiences with moving companies in the past that every time I move I get a little skittish.. I am so happy I chose this company. I had the pleasure of having Madrell and Zack as my movers. To say that they are a powerhouse team would be an understatement, these young men moved my entire home with such passion and precision you would have thought that they were moving their own belongings. Madrell & Zack were on time (in fact a few mins early), professional, and the quality of their work should speak volumes for the entire moving industry. If you are looking for the best value for your money, choose this company. I promise you will not regret it.

Kevin Melvin
22:06 02 Jun 20
My husband and I had been in the moving business for over 40 years. This was the first time we were the shippers. Our crew was Shayne and Jackson. They arrived on time and were very friendly and professional. Our stuff is going to storage and we hope that we get them on delivery out. Thank you Shayne and Jackson for putting us at ease with your great attitudes and professionalism. We truly appreciate it.Thank you again!!Chip and Toni

So let me tell you a story about how we booked movers from Steadfast Moving who showed up on a 3 hour job, worked 40 minutes and bailed on us with no notice. The guys at This Side Up Moving completely stepped up the plate and bailed us out. I could not be more thankful or appreciative for their efforts, professionalism and courtesy. They helped us out of an extremely tight spot in the best way possible. Would absolutely recommend and use again.

Marcus Nichols
23:37 29 May 20
Spoon, tyler and Ben really came through for us in a pinch today and saved us.Our scheduled movers from steadfast movers worked 30 minutes on our apartment and ghosted us without even saying a word, up and left the job. abandoned Furniture in the hallway of the apartment, truck open, keys in it. total unprofessional job.This side up moving came in with a clutch rush job, got a crew of guys out there and these guys killed it. They were fast, organized, professional, clean, and courteous. I just have nothing but wonderful things to say. 10/10 recommend.

Steve Kraft
22:03 29 May 20
When we were able to return to our home after having water damage, Shayne, Nate and Jamaar were so great at moving us back in! We highly recommend them!

Angela Pettus
14:56 26 May 20
Mardrell Kirby and Nate were outstanding in our 3 bdm move! We were supposed to have 3 movers, but due to unforseen issues, it was just Mardrell and Nate. They quickly got to work, and never stopped moving. They were very careful with our goods and were very efficient at the same time. Can't say enough good about these movers!

jeffrey hart
00:38 23 May 20

Karla Parker
18:48 09 May 20
Recently, my wife and I had a 2-truck team help us with a big items move. We could not have been happier with their overall helpfulness, attitude, and professionalism. Each team member went over and above to make the move successful.Despite unforeseen hurdles like a steeply graded driveway preventing them from normal loading, they simply parked in the street below, hauled things down the grade, and never complained/never wavered in focus. This individual attention to detail/attitude reflected tremendously on ThisSideUp, as a company.We will be sure to recommend this company to anyone in our circle of influence needing help with a move.

Top-notch moving company and crew at This Side up. I just had my first move with them today for some heavy equipment and inventory for my business. I needed a very on-time move, and am on a tight budget. Matt texted soooo many times helping me figure out something just right, with prompt and helpful responses. What really impressed me, too, was how thorough the intake call was- making sure they understood the need.The crew (Alvin and Devin) showed up exactly on time, worked hard and fast, and were very kind. My only wish is that the company make sure to support them with really good shoes! I have never seen any moving companies do this - but I think TSU is of the caliber to do so.

We had 4 wonderful movers.They did an outstanding job.The names of the movers are:Mandrel KirbyShayne MitchellAlec HiggenbothamNate HilliardThey were from Huntsville Alabama5 May, 2020Mckala Harrell

Mckala Harrell
18:17 05 May 20
We could not have had a better experience with our crew from This Side Up Moving. Shayne Mitchell, Alec Higginbotham, Antonio Brown and Jackon Davie were careful with all our belongings, professional and kind to our family. They worked quickly and carefully and got the job done hours sooner than I had thought.

Kathy Livermore
15:26 27 Apr 20
Our team consisted of Shane, Dee, Alvin, Nate and Alec. They were all professional gentlemen that were eager to help out in any way and went the the extra mile in doing some extras for us. Unfortunately the inventory assessment by email was probably not the best idea since it took two days to move us out rather than the one day scheduled which put us behind a day in moving in to our new house. From past moving experience, I believe in-home evaluations are more accurate. We had a few small pieces arrive broken due to the boxes marked "fragile" being packed into the trucks too tightly. Overall I would recommend TSU moving company!

Lynda Dunton
14:09 18 Apr 20
I called This Side Up at 4pm the day before we started moving. My husband and I thought we could handle it but it quickly turned into a job too big for us. They got us a team out the next morning at 8am and we were done and unloaded in just a few hours. Very great team! They wrapped everything and made sure they unloaded everything wherever I wanted it. 10/10, we couldn't have done it without them.

Jessica Farrell
20:50 11 Apr 20

Chad Bright
19:21 10 Apr 20
The moving personnel were absolutely professional. They were so carefully in moving furniture up and down our stairs, never bumping the walls or the furniture. Even more appreciated was their patience while I decided on where several key pieces should go in the room. They moved them several times and offered suggestions. Always with a calm attitude and a smile, they made sure I was completely satisfied with the placement of all items. I would definitely use them again and again.

Carol Umstaedter
21:38 18 Mar 20
We had our household moved from Alabama to Tennessee and our team was great to work with. Nathan and Jordan both, were very professional, accommodating to our specific needs, and moved all of our possessions with ease. From our first contact at the office with Chelsea, through the entire move process, everything was a great experience. I would highly recommend this team and company to do all your moving needs. Thanks again for all your help, it was greatly appreciated.

Penny French
12:07 18 Mar 20
Antonio, OGie, and spoon did a greAt job!! Recommend this company ( Huntsville Moving Service)!😀

Christina Lewis
19:32 16 Mar 20
Being a Supervisor at Alabama A&M University I've learned to notice good work ethics and qualities something that came to mind as soon as I've had the chance to supervise Antonio and Spoon. They always accomplished every task in a timely professional manner. I couldn't ask for a better crew with assisting us here at Alabama A&M University. As you may notice I labeled two guys as a crew and there work speaks for itself.

Timothy Lemons
14:42 12 Mar 20
We've experienced very good work ethics from Spoon and Antonio since theve been on campus assisting us on different projects. They've helped us out tremendously . We really appreciate their presence up here on the campus of Alabama A&M University. We look forward to working with them on future projects.

Reggie Crutcher
14:35 12 Mar 20
Quality work and professionalism was great. Spoon and Antonio always was on time worked hard and was very kind to all employees. I will refer them to anyone. Good job guys!

Chris langham
14:33 12 Mar 20
This Side Up is the most professional and friendly moving company we have ever used! From their care in packing to their concern while loading we were in great hands. Without a doubt we will call them again for our next move.

Cindy Richardson
01:18 09 Mar 20
Alec and Shayne went above and beyond what was required of them. I can't say enough good things about how kind, professional, and meticulous they were. I could tell they are passionate about and committed to their job. Not only did they move everything with care, but they also helped me move another piece of furniture that another company failed to place properly. I would recommend this company (and these two men, specifically) to anyone!

Shelby Carson
04:55 08 Mar 20
Spoon, Tim, and Tonio did a great job moving very awkward and heavy laboratory equipment. They made sure to no hit any of our narrow doorways and worked well as a team.

Sarah Nelson
15:26 04 Mar 20