Long Distance Movers AL (Out Of State Moves, Interstate Moves)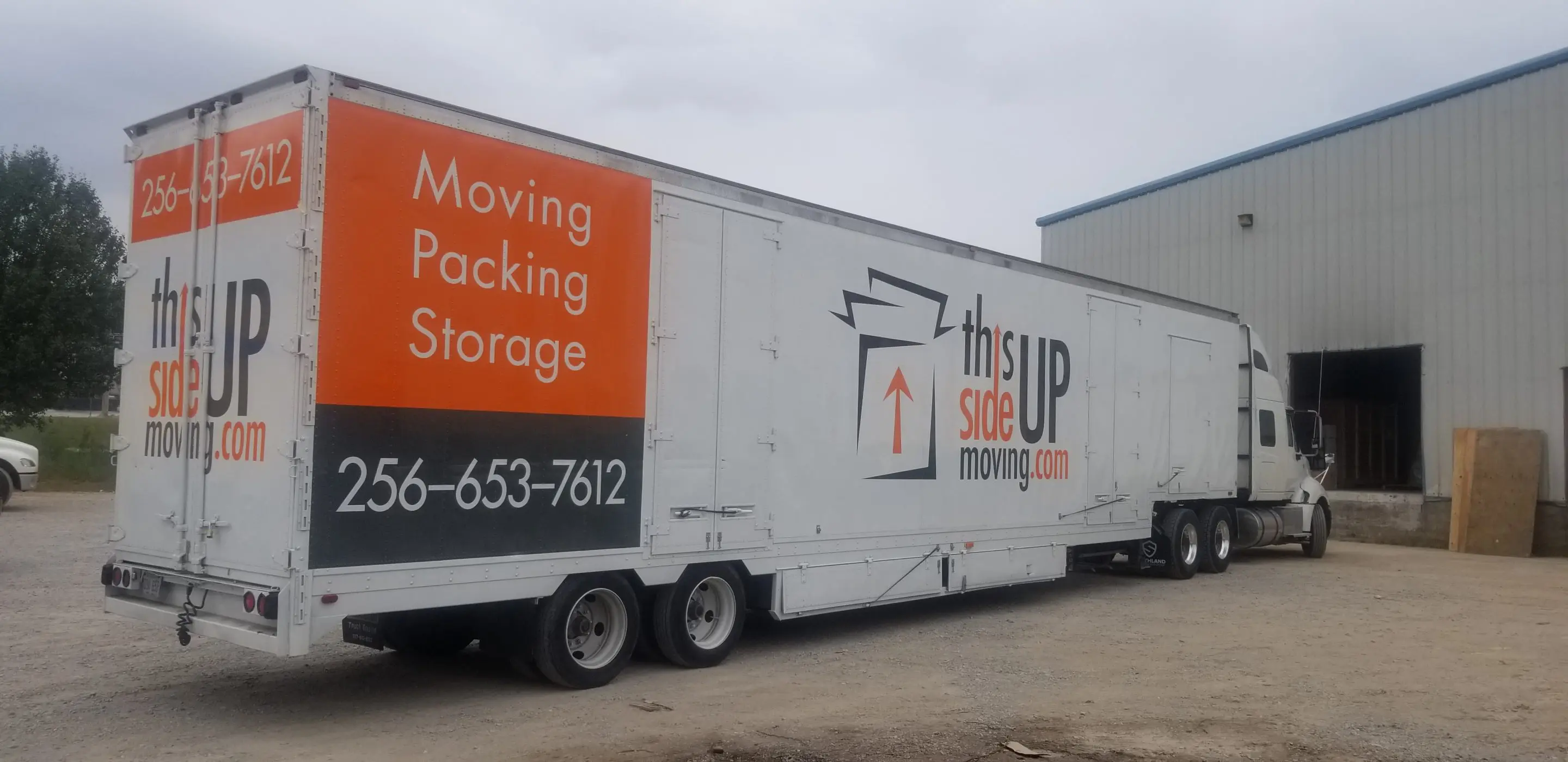 Are you on the hunt for the best long-distance movers in Huntsville? You've found them. Here at This Side Up, no long-distance move is a hassle.
As the number one Huntsville long-distance move company, we provide both residential and commercial moving services. Are you moving your household or company across the state? It's no problem! Moving out of the state? That's no issue either.
We even provide storage while your renovations get done on that side. That's because, unlike other movers, we offer full-service moving. Everything from the packing to the unpacking, and everything in between, is handled for you.
You can count on our dedicated team for their constant professionalism, discretion, and efficiency to help get your move done quickly and safely.
We know that moving is never an easy experience, and long-distance moving is even less so, but with our friendly team of experts assisting you every step of the way, you'll get through it with ease. Let us do all the heavy lifting, loading, as well as transporting.
We'll do it all for you, and we'll do it with a smile. So, you can feel free to relax and focus on settling into your new home or office.
Long Distance Moving Services AL
Long-distance moving from Alabama doesn't have to be stressful. But while there are long-distance movers in Huntsville, how do you know which one to choose? Who will go the extra mile (literally and figuratively) to get your goods to your new location safely and securely?
This Side Up Moving & Storage, that's who! We are the top long-distance movers in Alabama for all interstate and out-of-state moves. Not only do we offer long-distance moving services but also local moves and designer projects. There's no need to ever call another removal company again. We do it all!
Commercial moves, residential moves, and even designer projects are all handled with ease. So whether you're moving household furniture or office equipment, retail store fixtures, or art, we'll get it packed up, loaded up, and moved out. We'll even take care of all the unloading and unwrapping for you.
So don't risk the safety and security of your most prized possessions. Don't settle for long-distance movers without the right credentials. Trust the top Huntsville long-distance move company with your long-distance moving needs. Get This Side Up to get you there!
Experienced Long Distance Movers
One of the reasons we're top in our class is our experience with all kinds of moving situations. Since 2005 we've been moving furnishings and other goods locally, across the state, and even out of state. There's no outsourcing of labor or transport here.
We use our own team of experienced moving experts, qualified drivers, and a reliable fleet of vans and trucks. Our team is made up of thoroughly checked and vetted moving experts, and our vehicles are regularly serviced and maintained.
You don't have to worry about the condition of your belongings on arrival either. We pad all of your furniture with special quilt padding to reduce the risk of bumps and scratches while in transit. It's this attention to detail that makes us the best.
We can also do all the packing and unpacking of your smaller goods for you. Delicate items like fine china or art objects are carefully bubble-wrapped and loaded into your boxes. You don't even have to supply a single box or roll of tape. We have all you need for a successful and stress-free long-distance move.
Best Long Distance Moving Services
Some movers promise you the earth but when it comes to the great move day they just can't deliver. Those days of frustration with movers are over when you entrust us with your long-distance move.
No matter where in Huntsville or the greater Alabama area you are, we've got you covered for your interstate or out-of-state moving process.
Use our strong and sturdy packing supplies to wrap up your goods for delivery or trust us to do the hard work for you. Our team has tons of experience with wrapping and packing all kinds of furnishings and equipment, from antiques to computers.
We'll proceed straight to your delivery point and start unpacking, but if your new home or office isn't ready yet, that's not a problem either. Our world-class storage facility will house your items until they can be transported and offloaded.
We pride ourselves on our self-sufficiency as well as our moving efficiency. You don't have to take our word for it. Check out what our satisfied customers had to say.
The positive reviews cover all kinds of moves – both residential and commercial, but there's one thing they all have in common. Our customers are always happy to recommend us to others. That's because, in this business, our customers come first.
Hire Local Long Distance Movers Today!
Sure, you may find another Huntsville long-distance move company, but they either won't have their own fleet of transport vehicles, or they'll outsource their labor to other companies, and if they don't have much experience, you'll be understandably worried. Rest assured that one of that's a concern here at This Side Up.
That's what makes us the best long-distance movers in Huntsville, and the greater Alabama area. Long-distance moving in Alabama was never so easy, and you can proceed absolutely risk-free. Just give us a call, email us, or stop by our offices for a quote. It's 100% free and without obligation.
We know that once you've seen what a great deal we offer for such premium services, you'll never look back. So, get your free long-distance move estimate right now. We don't believe in hidden fees and nasty surprises down the line. You'll know upfront what you'll pay.
Feel free to get in touch with us in one of the following ways:
Call us – HUNTSVILLE: 256 653 7612
Email us – info@thissideupmoving.com
Pop in for a chat – 217 Import Cir. Huntsville, AL 35806 (our office hours are 8 am – 5 pm, Mon-Fri)
Fill this form to get your free estimate!
Top 3 Reasons Why Is Moving Hard
Moving would take so much time and energy from you if you are not guided properly. Experienced company like This Side Up Moving is your best solution to ease the stress of moving.
1. Moving is the third most stressful event in life, only behind death and divorce. That should only make hiring the best option even more pivotal.
2. Hiring a moving company is often cheaper when you consider how much longer it will take you to do it, factoring in the risk of injury and breaking property. Renting a truck is oftentimes a major component that costs more for you to rent than to pay for a company.
3. If possible, keep your boxes after a move. They usually can be used 1 or 2 more times and be capable of safely holding the weight.
Testimonials of Our clients
I work in an elementary school. Christian, Tyler, and Jordan had just finished unloading some things when they saw my teammates and I struggling to put some things in the dumpster. They stopped us and took over. We were so grateful. When coming back inside I passed by the room where they had unloaded a ton of big boxes. Everything was neat and orderly. All of the guys here today with This Side Up were so kind.

Jennifer Bateman
16:32 18 May 23
Christian, Tyler, and Jordan were moving materials at my school and saw me struggling to unpack my heavy things. They went the extra mile to help me throw away heavy things so I wouldn't have to lift it. They were so polite and helpful!

Samantha Oconnor
16:25 18 May 23
We chose This Side Up as our moving company and are delighted with our experience. Alvin and Kalai were the team that did the job. They showed up on time, very polite and didn't waste time. Both guys were careful with my furniture and also helped me by giving me their opinion on placing the items. Wonderful experience from start with Elliott who coordinated the move, his staff , Alvin and Kalai. My son will be moving soon and I will pass my experience with This Side Up onto him. Thanks again to all.

Yvonne Landry
15:28 12 May 23
I am happy to provide a glowing review for Antonio, who works for This Side Up Moving Company. My recent experience with the company was nothing short of perfect and excellent, and I attribute much of that to the professionalism and hard work of Antonio.From start to finish, Antonio demonstrated a level of expertise and attention to detail that was truly impressive. He took great care with our belongings, ensuring that everything was properly packed, loaded, and transported to our new home. His efficient and organized approach made the entire process smooth and stress-free.Not only was Antonio skilled at his job, but he was also friendly and courteous throughout the entire moving process. His positive attitude and willingness to go above and beyond to ensure our satisfaction was truly appreciated.In summary, I would highly recommend Antonio and This Side Up Moving Company to anyone in need of professional, reliable moving services. My experience with Antonio was truly exceptional, and I have no doubt that I will be using this company again in the future. Thank you, Antonio and This Side Up Moving Company, for a job well done!

Wes Wall & Nicos Luca David
14:23 11 May 23
I had the pleasure of working with Jordan, a mover from "This side up" moving company, and I can confidently say that he was exceptional in every way. Throughout the entire moving process, Jordan showed exceptional care and attention to detail, ensuring the safe transport of my family's treasured heirlooms.Jordan's professionalism was truly outstanding. He consistently arrived on time, treated me with the utmost respect and courtesy, and had extensive knowledge of the best techniques for moving fragile items. Additionally, Jordan communicated with me clearly and effectively throughout the process, keeping me informed about every aspect of the move.In conclusion, I highly recommend Jordan to anyone looking for a skilled, reliable, and professional mover. He is a valuable asset to "This side up" moving company, and his dedication to delivering top-quality service to clients is truly remarkable.

Nicos Luca David
05:31 11 May 23
I had the pleasure of working with Clay, a mover from "This side up" moving company, and I must say that he was exceptional in every way. Throughout the entire moving process, Clay demonstrated an exceptional level of care and attention to detail, ensuring that my family's heirlooms were safely transported.Clay's professionalism was truly outstanding. He consistently arrived on time, treated me and my family with the utmost courtesy and respect, and possessed extensive knowledge regarding the best practices for moving delicate items.In conclusion, I highly recommend Clay to anyone searching for a reliable, skilled, and professional mover. He is a valuable asset to "This side up" moving company, and his commitment to providing exceptional service to customers is truly commendable

Nico David
05:27 11 May 23
I had the opportunity to work with Chris, a mover from "This side up" moving company, and I am pleased to say that he exceeded my expectations in every way. During the entire moving process, he showed exceptional care and attention to detail, ensuring the safe handling of my family's valuable heirlooms.Chris was a consummate professional, consistently arriving on time, treating me, my mother, and sister with utmost courtesy and respect, and exhibiting a wealth of knowledge on the best techniques for moving fragile items.Overall, I would highly recommend Chris to anyone looking for a skilled, reliable, and professional mover. He is a valuable asset to "This side up" moving company, and his dedication to delivering top-quality service to customers is truly remarkable.

McAllister É Nicos David
05:23 11 May 23
I had the pleasure of working with Jay from "This side up" moving company, and I must say that he was exceptional in every way. Not only did he take great care of my family heirlooms, but he also showed exceptional care and attention to detail throughout the entire moving process.Jay's professionalism was truly outstanding. He arrived on time, was always courteous, and respectful.Overall, I would highly recommend Jay to anyone looking for a reliable, professional, and skilled mover. He is a major asset to "This side up" moving company and a testament to their commitment to providing excellent service to their clients.

Jay & Levi were absolutely amazing movers! They were extremely efficient, pro packers and CAREFUL with everything! Thank you guys!

Madelyn Jamelle
02:03 08 May 23
I'm so impressed with my whole moving experience. Zach and Dylan made this move so wonderful. They were on-time, looked over what needed to be moved and jumped right in. They worked great together throughout the whole move. I was also very impressed that they never seemed to run out of energy. Thank you for sending these workers to make my move, I couldn't be happier.

Rachael Rachael
20:51 06 May 23
Javon, Alvin, & Khalil were great.

Paul Mammana
02:14 25 Apr 23
Could not have asked for better service.

Ford Gates
19:43 23 Apr 23
We used TSU moving over the weekend and there is NO way to express the quality of workmanship, responsiveness and over all ability these two young men possessed. Dylan and Shy went above and beyond for us. I highly recommend them if you can get your choice. Thank you guys for an amazing job well done!

BRANDI JOHNSON
13:01 09 Apr 23
Dylan and Shy where all the above. Quick, respective, and pros at what they do.

James Not Bond
18:41 08 Apr 23
Dylan and Shy perfect and very professional and very fast. Please ask for them.

Joseph Johnson
18:33 08 Apr 23
I have moved 3 times since 2015 and I have dreaded it every time afterwards due to let downs and unreliable people. TODAY however changed everything Jordan and Kelvin went beyond above and beyond, they made any issues that arise feel irrelevant and adjusted so amazingly. Literally cannot form how grateful I am into words, if I have to move or need something moved will be requesting them only, they have a fan for life

Crystal Gaines
19:06 21 Mar 23
Great Customer Service!!By far some of the best customer service I've experienced since moving back AL a year ago! The entire staff is professional and has great bedside manner. I had a small move with less than 10 items, and they were very flexible in making sure we stayed within the timeframe that I was quoted. Derek stayed in touch with me for months to see if I had found a mover, and was persistent to earn my business. I'm also quite fond of Kristy who has incredible soft skills and went above and beyond to make sure I was happy, and the movers were very courteous and professional as well. I'm pleased with the outcome of my experience.

Starr N Amp
18:14 10 Mar 23
Very good, very professional. Highly recommend these guys.

Flournoy Gardner Jr
19:10 07 Mar 23

Gary Tuttle
00:09 07 Mar 23
As a military family, we have moved countless times with countless negative experiences, such as missing items and damaged furniture. However, Dashawn, Kanoa, Kaliyah were remarkably considerate, efficient, and careful during the entire 6 1/2 hour process. They wrapped furniture in both a blanket and plastic wrap, they kindly moved boxes to the correct room, and I never once saw them using their cell phone for personal reasons!!! Request this crew! Also, the initial experience with the office staff was pleasant. They were responsive and communicated professionally. Military discount was a nice touch!

Julie Norden
20:57 03 Mar 23
I want to start by saying we didn't know we could move in our house until the day before we needed unloaders & nobody could help us but This side up did & sent 3 men not just 2. From the start of communication on the phone with Derek until the last phone call with Matthew everyone was very professional & nice & just wanted to makes us happy in this very stressful time because we've definitely had alot of hiccups since October trying to move back to Alabama from Georgia. The 3 young men that unloaded our uhaul were amazing, Tye, Tyler & Asa thank you so very much for all of your hard work, you were very respectful, courteous, professional & just all around great young men. I would recommend this company to anyone for any of your moving needs! Thanks again guys!

Michelle Roberson
15:59 27 Feb 23
Easy to work with, friendly staff. Estimate was quick and accurate, scheduling was easy.The day of, Jordan, Shai and Nick were friendly and efficient. Jordan checked in with us and made sure we were happy with how everything was going. Very professional, and would recommend highly.

Asa, Nick and Dylan moved our furniture and boxes from storage into our new home. They worked safely and efficiently and didn't waste time. They were careful with our belongings and we didn't have any damage. They put furniture together and placed it where we wanted it. These young men were very pleasant to work with and were very professional. This wasn't the first time that we hired This Side Up. Their crews and service have always been superb.

Dianne Ray
15:02 04 Feb 23
Jordan, Asa and Shai did an excellent job moving us! They were efficient, careful and mindful of where I wanted items placed in the new home. They made the day as stress-free as possible and I could have peace of mind knowing my furniture was protected. Thank you for all the great work!

Nathan and Shai very professional! The company is quick to respond and answered all of my questions before the move! I will definitely be using them again!

JoAnna Porter
01:06 01 Dec 22
Loved Kenneth, Jermaine and Christian. They each have their own special talents that makes them work well together. They really got the job done.

Wanda Smith
12:31 30 Nov 22
Absolutely loved the guys that came by. Cheerful in the face of hard work. Very personable and professional. Will definitely use them again. I do recommend them to anyone that wants on time and efficient movers, that is very reasonably priced.Forgot to mention that their names are Alec, Nathan, and Alex. Real good guys.From Nelene

Dotun Odutola
15:03 24 Nov 22
We had the most fantastic experience with Asa, Jordan, Christian, and Marquis for our in-town move. They packed us up, moved us out, moved us in to our new home, and had our furniture re-built in about 8 hours. All of our items were packed carefully and none of our items had any damage. Cannot say enough good things about their professionalism and work ethic! Will definitely return for any future moves.

Laura Pillman Patterson
15:20 13 Nov 22
I was stressing over a 600+ mile move, but This Side Up made it the easiest move of my life. The price was reasonable and every bit of my furniture was wrapped in moving blankets and then plastic wrapped. All of my belongings arrived in perfect condition and right on schedule. Shoutout to my movers Alec H and Dashawn for being quick, careful, and fun and friendly too! I can't give enough praise for how well everything went.

Robert Cole
19:43 29 Oct 22
The guys did a fantastic job moving my stuff. They were professional and efficient. Would recommend Cameron Hill, Christian King, and Antonio Potter. Awesome job!

Steven Powell
21:01 17 Oct 22

I can't say enough good things about This Side Up. We found out about them via a mailer postcard. Just so happens we needed a moving company to help get some of our things from Madison to Athens. Anyone who has moved knows what a pain and time consuming job it is. Jordan, Kenneth, and Nate did a great job! My back was sore by just by watching them lift the heavy things. Once we move again in a few months, hopefully for the last time, we're giving this company a call! We were very pleased!

Jeff Hester
12:47 04 Oct 22
The guys were the best. Quick, easy, professional but with a sense of humor. 10/10 would recommend and will be using again!!

John Cagle
14:52 29 Sep 22
Nice website, easy to navigate. When I got a quote, there were a bunch of fees for missing TV boxes, computer monitors and to move a small apartment 7 miles. The quote of six hours seemed excessive, so I went with a competitor. Who can do it in under 4. When I moved these things in two years ago, it took me less than three hours. I didn't understand and over quoting. 🤷🏼‍♀️

Brandon & David did a fantastic job of loading up our moving truck! They were amazing!

Susan Klevorn
18:39 02 Sep 22
Brandon Tay Jayden Helped me with my move to Columbus INDIANA. they were great, highly recommend this crew!!

Chuck Johnson
18:32 31 Aug 22
Awesome company and great guys. Brandon, Dylan, Tye and Ken from this company helped us move recently to our new house. They had great attitude, were respectful and very hard working. They were highly dependable and did their job with perfection with the least supervision from us. I appreciate them and wish them good luck in all future endeavors! I highly recommend these guys and this company if you are looking for movers and packers or just for storage.

Bati Sharma
21:27 30 Aug 22
Alec, Kalai and Justin did an excellent job for us. Very hard working and courteous. Would definitely use again!

Jim Oppman
15:50 29 Aug 22
They did a great job at not damaging any of our items. The price was the best in the area. The guys that took apart our dining table lost the screws but Mike made it right by sending us a check for $500 even though he was only liable for $80 according to the insurance. That is great customer service. Thanks so much Mike. Please thank all the guys for a smooth and stress free move. We highly recommend this company for your next move.

BRENDA HAY-BEER
21:56 22 Aug 22
We experienced excellent service from this company from booking the move through the completion of the move. Kenneth and Joey were very hospitable, professional and took great care when moving our contents. I can't say enough good things about this company! I HIGHLY RECOMMEND THIS COMPANY!

Vince Lindsey
22:01 10 Aug 22
We needed a mover to help get some things into a new place recently purchased. Richard and his partner not only helped us get the items in but helped us also put things in the right place. They were quick, efficient, professional and nice. I can't recommend a better moving company. For your next move, call these people - I know we sure will!!

Robert Williams, III
20:44 06 Aug 22
Very professional, details all done well. Excellent service.

Grateful Grammie
21:14 05 Aug 22
Alex, Jaden and Kenneth did a great job moving us. They were very detail oriented, fast pace, friendly, helpful and simply made our life easier. I would highly recommend This Side up Moving for your next move.

Teresa Gibbs
23:50 02 Aug 22
Alvin and Kala'i were awesome movers! My fiancé and I are moving in together so we had items from her apartment being moved into my apartment and then items from both of our apartments that needed to be moved into storage or thrown away. They were both very professional and friendly and got everything completed in a timely fashion. Thank you so much!

Jasmine McIntosh
22:28 31 Jul 22
Super company. Great office staff Derrick and Kristi. Respectful, hardworking, careful with my furniture. Alvin, Justin, Clay, and Noah, were just exactly what you would need for help moving!! Only thing I didn't care for is they cannot go into attics to pull down boxes. Would have given 5 star otherwise.

Melissa Strickland
11:58 31 Jul 22
Huge thanks to Markese and Richard! They moved my pod so fast and helped me put my heavy dresser right where I wanted it.

Angela Glotfelter
15:13 28 Jul 22
They were Perfect and nice!!!!! Torrey Jordan and antwon

Angelique Gibson
16:12 26 Jul 22
Very helpful and exceeded my expectations and nothing was broken.Tory was most informative and helped with all my needs.

Lillian Norwood
15:59 26 Jul 22