This Side Up Moving Company is a full service moving company that helps families and businesses relocate with ease. We are locally owned and operated from Madison, Alabama, and are also properly licensed, bonded and insured to perform residential and commercial moves within the 48 contiguous states. Condominiums, apartments, offices and homes of all shapes and sizes are commonplace in our world. Our years of experience, quality equipment and expert planning facilitates the preparedness that results in a successful move.
What to know about 

Big Cove, AL
Big Cove is an unincorporated community in Madison County, Alabama, United States. It is located roughly seven miles southeast of downtown Huntsville. Big Cove is located close to the quickly-growing Hampton Cove community.
Big Cove rests at the foot of Green, Huntsville, and Monte Sano mountains. It was named by John Clan Grayson, the first white settler and permanent resident of the area. It is bordered to the south by Owens Cross Roads, Alabama, whose zip code encompasses most of the community known as Big Cove. The northern area of the community, known by locals as the "upper end" is a part of the Brownsboro, Alabama, zip code, and has largely been annexed into the Huntsville City limits.
It was largely a farming community for many years; however, many of the old farms have been sold out of the families who had owned the land for generations, and subdivisions have begun to grow where soy bean, corn, and cotton, were once major cash crops.
When do people move?
About 45 million Americans move every year.
In 2016, Texas received the most movers in the U.S. but on average it is usually Florida.
The average American moves 11.7 times in their life.
Half of all moves happen between May and September, probably due to summer break and a lack of major holidays.
Friday is the most popular day to move on average.
Sunday has the least amount of moves on average.
The average number of boxes used in a move is 60.
The average household moves about 6,500 pounds.
Fill this form to get your free estimate!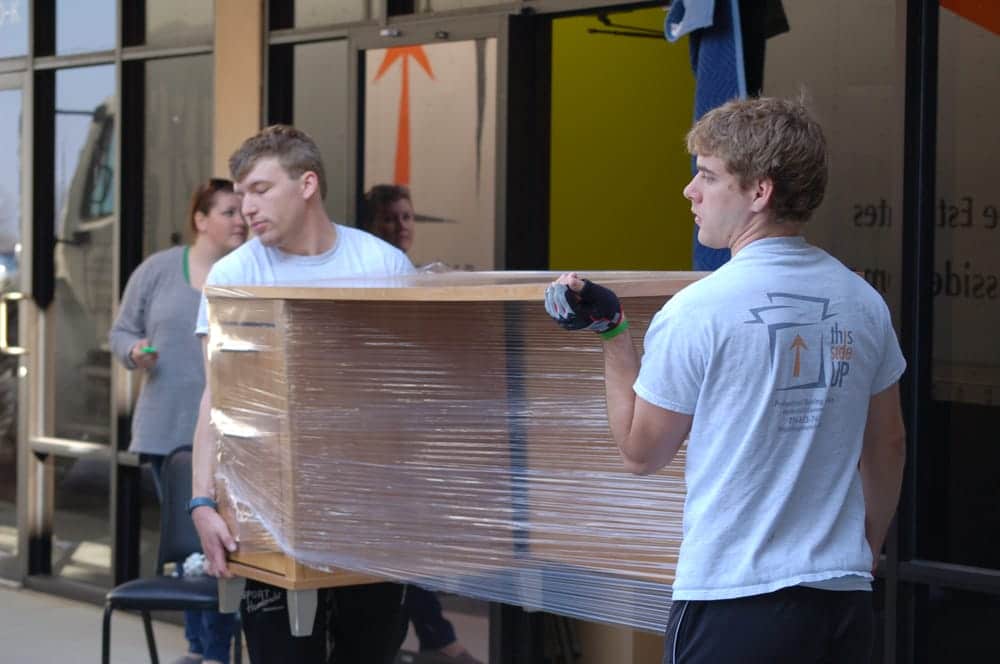 Testimonials of Our clients
Alvin, Ethan, and Kanoa were amazing! Thank you This Side Up, you have some awesome employees.

Vikki Rickard
19:07 23 Jun 21
This move was great. Thanks to Joey Cal and D

Sally Priester
17:43 23 Jun 21
Joey, Dareon, Calvin were superb, helpful, creative, and friendly.

Donna Behnken
17:30 23 Jun 21
They were on time. Crews were courteous and efficient. The office personnel were always easy and pleasant to work with. During packing and loading Brett was patient and listened to any concerns. Torry worked diligently packing, loading, driving and unloading. Marcus helped with the packing and unloading into storage. Torry and Marcus arrived on time at the storage facility and worked hard. They were never discourteous and it was hot. I do not remember his name but during the loading a young man nicknamed Popeye also worked very hard but always with a smile.

James Bodine
22:11 22 Jun 21
Zak, Prince and Marcus were great and very professional. Would use them again for sure

Ginger Ryan
01:39 22 Jun 21
Ethan, Alvin, and Kanoah did an amazing job! Thank you!

Jordan Rickard
19:41 19 Jun 21
Ethan, Alvin and kanoah did great jobs moving my parents stuff. Thank you!!

Kelsey Rickard
19:41 19 Jun 21
Zak Dylan and Jay did an amazing job moving my mother out today! Highly recommend!!

pam ladreiter
20:12 17 Jun 21
This Side Up Moving did a great job in my recent move. Jordan and Dareon were both very friendly and got the job done in less time than estimated.

Erin Hamilton
20:34 16 Jun 21
Fantastic moving job by these guys. They were attentive and worked hard. The guys names were Ethan, Dareon, Troy, Dylan, Alec, and Calvin. Can't say enough good things. Would highly recommend!

Roberto Taarea
15:43 16 Jun 21
Zac and Marcus with This Side Up saved me! My husband had to leave early for his work trip and we were not able to finish our move, so we called This Side Up and the next day they made an opening to come and help me move the rest of my furniture, washer/dryer, and freezer! Zac and Marcus not only took a huge weight off but were extremely professional! I have moved several times prior and were not impressed with the movers we hired but lets just say if we ever need moving assistance again This Side Up would be the team we would call!! Thank you so much Zac and Marcus for all of your help and taking a huge stress load off my back! Keep up the amazing work!!

Alexandra Hamby
15:28 16 Jun 21
We had a great experience with This Side Up. Calvin and Tyler were very respectful and helpful. We would definitely use this company again.

Lauren Milam
14:08 12 Jun 21
Ethan, Tyler, and Westen made it look easy! 3 flights of stairs in the heat. An absolute awesome job. Great guys. I highly recommend!

Kade Barta
19:48 11 Jun 21
Super quick and efficient crew! Ethan, Tyler and Westen not only moved our heavy items up THREE flights of stairs in record time (in AL heat) — but were also courteous and had great attitudes! Highly recommend. Will be using again and requesting these guys!

Stacey Barta
19:46 11 Jun 21
Great job by the movers Brett, Torrey and Devin

Todd Gartrell
17:45 10 Jun 21
We had a huge move from Huntsville to Roswell ga…. Ethan, Troy, dareon, Dylan, Alec, and Calvin were amazing! They went above and beyond our expectations!!! I can't say enough great things about these amazing men! Thank y'all so much!!!

Autumn Taarea
17:16 07 Jun 21
We used this company to move us across Huntsville from an apartment to a house. Ethan, Dareon, and Marcus were able to do the move way faster than the estimated time, and they were super friendly the entire time.

Alex Leazer
22:17 05 Jun 21
I would definitely recommend This Side Up Movers! Ethan, Marcus, and Dareon were extremely friendly and efficient! It went as smoothly and quickly as it could, and if I ever need the services again, I would come here.

Carly Foss
22:11 05 Jun 21
Big thanks to Zack & Calvin along with the rest of This Side Up team for helping me get a large work table delivered on short notice. They were on time and helped me out based on my work schedule! Cant recommend them enough!

Chris Duncan
02:28 05 Jun 21
Zak, Alec, and Mario did a great job! They were super professional and did everything we wanted. Overall, very impressed! Definitely recommend!!!!

Nicole Bobrowski
00:51 05 Jun 21
Zack, Calvin, Jeremiah,dareon Tyler H, did a wonderful job

keith turner
15:58 03 Jun 21
I highly recommend This Side Up of Huntsville. Joey, Devin, Brett, and Kenneth did a great job with our move. They were all friendly, professional, and very respectful of our home. They made the whole process easier and less stressful. I would definitely call again with a future job.

Linda Crews
21:58 02 Jun 21
This Side Up helped move my grandma out of her home. The team (Zak, Alec and Mario) were very professional and took great care with all of my grandma's precious things. I would recommend using them for your move! Very easy to work with and they made things stress free for us. Thank you!

Haley Hyde
16:49 02 Jun 21
Zack. Jeramiah, Tyler H. These men are hard workers and did a Fabulous job moving us to our new school!!!!!! give them a RAISE!!!!

Tyler Hunter did a great job moving my classroom today! I really appreciate all of the the good work him and others did. My desk was very heavy and he advised the team to get it out as safe as possible. Would recommend him ,zack, and Jeremiah for your needs!!

FASHION esta
22:35 01 Jun 21
Great Movers!! These boys helped us out today and we are very grateful! (Zach, Jeremiah Tyler Hunter).

Marilynn Maxwell
20:08 01 Jun 21
This Side Up helped move me into my classroom. Zack, Tyler H, and Jeremiah were very professional in helping us out!

Dianne Spanne
20:05 01 Jun 21
Joey and Devin rock! Very professional. Would definitely request them again!

Jennie Beck
17:05 28 May 21
On May 13, 2021, TSU Movers moved large pieces of furniture for me from my business site in Research Park to a storage facility. The movers, Ethan and Alec, were on time and waiting at my building when I arrived late, and I appreciated their polite patience! They were very nice, conversational young men who quickly and efficiently got to work wrapping and protecting each piece of furniture—including glass shelving—and loading the truck. Same good work once at the storage facility as well. We were done in under three hours. Their professionalism obviously reflects TSU's professionalism. I've used TSU twice for personal moves and once for the business, and I plan to do so in the future! Dependable, excellent quality movers! Highly recommend them.

Jordan and Bobby did a local move for me and I am very satisfied. They were prompt, efficient, professional, put everything where it needed to go, and more. They didn't waste time, but were still friendly and polite. They didn't balk at the steps - on both sides of the move - and took care with both our goods and the walls and ceilings. I would definitely suggest you check out This Side Up if you need help with a move.

Mike Carstensen
19:39 28 Apr 21

Keri Chapman
21:35 20 Apr 21
March 26This Side Up movers Made my mother's move a pleasant experience! She has a lot of antique furniture and she was so worried about the move. This Side Up team (Zack, Mario, and Alec) took great care of all of her things, making sure to wrap up each piece and moving it all with great care. Zack was very pleasant, and showed interest in many of her pieces; this made her feel proud to share the history of her furniture with him as he wrapped them up to move.I will feel confident recommending them to my friends and family!! Thank you This Side Up!

Diana Hyde
17:24 01 Apr 21
Recently had a big move for my grandmother to Redstone Village. Zak, Alec, and Mario did a wonderful job! Very helpful and more than willing to make things easy for her. Had several large items that were moved without issue. Everything arrived in great condition. They had several options to help with organization and moving the little things as well. Would highly recommend this group.

Lauren Scott
16:54 01 Apr 21
They did a great job and were super professional. My only issue: I would prefer that they have customers fill out all of the paperwork required online, instead of taking up moving time to do that.


Carla Whiting
04:31 25 Mar 21
Ethan and Jordan helped me with my move across town and both were very personable and warm. These two guys knew what they were doing and were able to accommodate my preferences during my move. I highly recommend!


Will Sanders
20:11 22 Mar 21
Thanks to the entire team for providing the best level of customer care moving in the entire state. I recommend using them for any move you may have!

Preston Taylor
20:05 22 Mar 21

Carolina Q
19:59 22 Mar 21

Camille Burnstone
19:57 22 Mar 21

Amelia Proctor
17:01 22 Mar 21

Lauren Roten
16:55 22 Mar 21
Kristy was able to book my move quickly, and Tyler, Joey, and Prince did a great job being professional and moving things along effectively with a very heavy piece of furniture.

Ethan, Brett, Kenneth, Mario and Joey were life-savers! I had to have several large items relocated from Alabama to Kentucky; they were the items that were too large for me to move myself. I would definitely recommend this company to anyone needing help! I plan on using them again in the future. Thanks again, guys!! 😊

Heather Wolverton
19:44 02 Mar 21
This is the fourth time we have called This Side Up to help us as we have downsized. (We are doing this in stages!) Each time they have been excellent. Shout out to Brett and Kenneth who were very helpful, even going the extra mile. We definitely recommend this company and their workers.

Sandra Jones
17:42 01 Mar 21
What could have been a tough day for moving in the rain, Brett and Zak made it a perfect experience. They were timely, efficient, and friendly. They handled our items with great care and went out of their way to be sure the day went flawlessly. If you need a moving service, This Side Up should be your first call. Thanks for making our day!

Joy Williford
02:54 27 Feb 21
If you're moving! Call these guys!! This was my first time using a moving company. I'd always had family move me. I wasn't sure what to expect. But This Side Up went above & beyond my expectations. Zak and Brett were the best movers I could ever wish for! They were polite, respectful, gentle with my belongings, and super accommodating! Can't brag enough on these guys!! Thank you This Side Up!! You took the stress right out of my move!

Katrina Campbell
02:11 27 Feb 21
Had a gang of good guys come over earlier today to move some things and it would be a lie to say this isn't the best moving company I've ever used. Special thanks to Ethan, Kenneth, and Ty for the quick work and phenomenal job. They went above and beyond what was needed.

The Originz
01:51 26 Feb 21
Zak, Brett, Jordan and Bobby were great and did a very professional job!! Would definitely recommend them!!