This Side Up Moving Company is a full service moving company that helps families and businesses relocate with ease. We are locally owned and operated from Madison, Alabama, and are also properly licensed, bonded and insured to perform residential and commercial moves within the 48 contiguous states. Condominiums, apartments, offices and homes of all shapes and sizes are commonplace in our world. Our years of experience, quality equipment and expert planning facilitates the preparedness that results in a successful move.
What to know about 

Big Cove, AL
Big Cove is an unincorporated community in Madison County, Alabama, United States. It is located roughly seven miles southeast of downtown Huntsville. Big Cove is located close to the quickly-growing Hampton Cove community.
Big Cove rests at the foot of Green, Huntsville, and Monte Sano mountains. It was named by John Clan Grayson, the first white settler and permanent resident of the area. It is bordered to the south by Owens Cross Roads, Alabama, whose zip code encompasses most of the community known as Big Cove. The northern area of the community, known by locals as the "upper end" is a part of the Brownsboro, Alabama, zip code, and has largely been annexed into the Huntsville City limits.
It was largely a farming community for many years; however, many of the old farms have been sold out of the families who had owned the land for generations, and subdivisions have begun to grow where soy bean, corn, and cotton, were once major cash crops.
When do people move?
About 45 million Americans move every year.
In 2016, Texas received the most movers in the U.S. but on average it is usually Florida.
The average American moves 11.7 times in their life.
Half of all moves happen between May and September, probably due to summer break and a lack of major holidays.
Friday is the most popular day to move on average.
Sunday has the least amount of moves on average.
The average number of boxes used in a move is 60.
The average household moves about 6,500 pounds.
Fill this form to get your free estimate!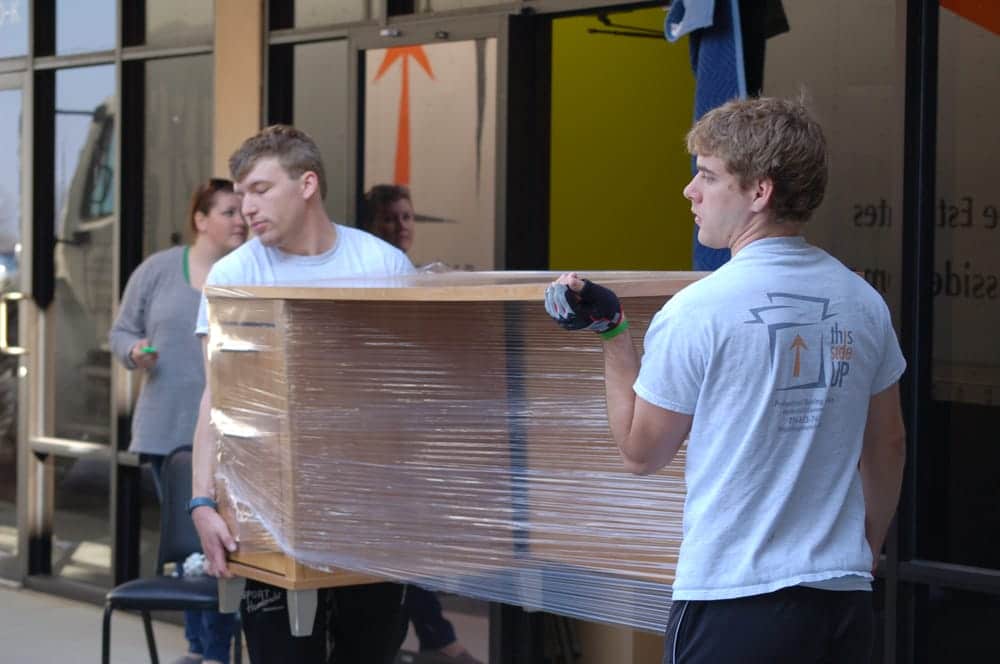 Testimonials of Our clients
Jordan and Bobby did a local move for me and I am very satisfied. They were prompt, efficient, professional, put everything where it needed to go, and more. They didn't waste time, but were still friendly and polite. They didn't balk at the steps - on both sides of the move - and took care with both our goods and the walls and ceilings. I would definitely suggest you check out This Side Up if you need help with a move.

Mike Carstensen
19:39 28 Apr 21

Keri Chapman
21:35 20 Apr 21
March 26This Side Up movers Made my mother's move a pleasant experience! She has a lot of antique furniture and she was so worried about the move. This Side Up team (Zack, Mario, and Alec) took great care of all of her things, making sure to wrap up each piece and moving it all with great care. Zack was very pleasant, and showed interest in many of her pieces; this made her feel proud to share the history of her furniture with him as he wrapped them up to move.I will feel confident recommending them to my friends and family!! Thank you This Side Up!

Diana Hyde
17:24 01 Apr 21
Recently had a big move for my grandmother to Redstone Village. Zak, Alec, and Mario did a wonderful job! Very helpful and more than willing to make things easy for her. Had several large items that were moved without issue. Everything arrived in great condition. They had several options to help with organization and moving the little things as well. Would highly recommend this group.

Lauren Scott
16:54 01 Apr 21
They did a great job and were super professional. My only issue: I would prefer that they have customers fill out all of the paperwork required online, instead of taking up moving time to do that.


Carla Whiting
04:31 25 Mar 21
Ethan and Jordan helped me with my move across town and both were very personable and warm. These two guys knew what they were doing and were able to accommodate my preferences during my move. I highly recommend!


Will Sanders
20:11 22 Mar 21
Thanks to the entire team for providing the best level of customer care moving in the entire state. I recommend using them for any move you may have!

Preston Taylor
20:05 22 Mar 21
Great company! Thank you!

Oscar Delehoya
20:02 22 Mar 21

Carolina Q
19:59 22 Mar 21

Camille Burnstone
19:57 22 Mar 21

Amelia Proctor
17:01 22 Mar 21

Lauren Roten
16:55 22 Mar 21
Kristy was able to book my move quickly, and Tyler, Joey, and Prince did a great job being professional and moving things along effectively with a very heavy piece of furniture.

Ethan, Brett, Kenneth, Mario and Joey were life-savers! I had to have several large items relocated from Alabama to Kentucky; they were the items that were too large for me to move myself. I would definitely recommend this company to anyone needing help! I plan on using them again in the future. Thanks again, guys!! 😊

Heather Wolverton
19:44 02 Mar 21
This is the fourth time we have called This Side Up to help us as we have downsized. (We are doing this in stages!) Each time they have been excellent. Shout out to Brett and Kenneth who were very helpful, even going the extra mile. We definitely recommend this company and their workers.

Sandra Jones
17:42 01 Mar 21
What could have been a tough day for moving in the rain, Brett and Zak made it a perfect experience. They were timely, efficient, and friendly. They handled our items with great care and went out of their way to be sure the day went flawlessly. If you need a moving service, This Side Up should be your first call. Thanks for making our day!

Joy Williford
02:54 27 Feb 21
If you're moving! Call these guys!! This was my first time using a moving company. I'd always had family move me. I wasn't sure what to expect. But This Side Up went above & beyond my expectations. Zak and Brett were the best movers I could ever wish for! They were polite, respectful, gentle with my belongings, and super accommodating! Can't brag enough on these guys!! Thank you This Side Up!! You took the stress right out of my move!

Katrina Campbell
02:11 27 Feb 21
Had a gang of good guys come over earlier today to move some things and it would be a lie to say this isn't the best moving company I've ever used. Special thanks to Ethan, Kenneth, and Ty for the quick work and phenomenal job. They went above and beyond what was needed.

The Originz
01:51 26 Feb 21
Zak, Brett, Jordan and Bobby were great and did a very professional job!! Would definitely recommend them!!

Ethan, Kenneth, and Ty were absolutely amazing! They were on time and got right to work. I am so impressed with what they accomplished in such a short amount of time.Highly recommend!!

Zak and Alec were great! Only needed a few pieces of furniture moved. After moving 6 hours from home to a new town I couldn't have hoped for movers that were more professional and amicable as these guys. Would definitely us TSUM again. Thanks again guys!

Connor DeYoung Racing
22:33 23 Feb 21
The guys were on time and great attitude! Ethan, Ingram, Bobby

Gary Littlejohn
20:26 23 Feb 21
Ingram and Zach did a great job moving my staging items in between vacant homes. Thanks guys!!!

Gina Barlow
02:17 23 Feb 21
Thanks to Zach and Ingram for a quick and efficient move.

Jim Barlow
02:08 23 Feb 21
Jordan, Kenneth and Kanoah are the best!! They were fast and friendly with the move. Was not the first time moving with them. Definitely recommend!!

Sloane Roberts
18:55 20 Feb 21
I have used This Side Up Moving on multiple occasions in the last 8 years and their professionalism and execution have always been phenomenal! They accommodated a difficult out of country move for me, as well as, packing, storage, and my return move and everything went smoothly. They are always very responsive and provide a certain level of calm to a typically stressful event! I would recommend them to anyone moving into the area as well as, anyone moving locally! It's always great to see a local business grow and continue providing quality service throughout the years! Thank you to the entire TSU team!

Chris Duncan
17:21 17 Feb 21
Long review but this company and their crew warrant this. This is a very positive, good review of a good company and crew. Not sure how many reviews I've done on Google, but it's not many, so this is one of my rare reviews of a company.The crew they sent were top-notch! I'd use them again (and did, both for the loading and unloading). It started with Matthew (coordinator on the phone, nothing in person) and he ensured that he had a good understanding of the move by asking the right questions.When the crew (Alvin, Joey, and Canoa) arrived and saw no surprises, they got right to it. They were awesome - polite, diligent, organized, and interactive where needed - everything you'd want in a moving crew. 5 hours to completely remove our stuff (over 8,000# worth, a lot of stuff) from our house, load it into two trucks, and off they went. They were so good, I specifically requested them to be the crew to unload us two days later, they were that good and we trusted them that much. (They were indeed the crew to load at the other end.) We got to the distant end (in state move but not local by any stretch) and that same crew got right to it. About 5 hours to unload both of those trucks.I've moved a lot in my life, about 15 times (my Father and I both did careers in the military), and this is the first move I can say I had no damage to anything shipped and no delays. They were careful, not rushing but definitely moving on with the job.Some details: 1) Came in right at the estimate (within 5% of the quote). 2) Completed both ends of the move in the times estimated (really good considering they didn't see anything until the crew arrived). 3) Their estimate was about 40% below the next closest estimate (same details given for everything, and I talked to four companies, counting these folks, to get estimates).I highly recommend these folks for your next move, both this company and this crew especially. We were 100% satisfied with the company and crew and will call them first if we need to move again (but hope this is our last move).

I have hired moving companies several times, and the three gentlemen (Alvin, Kanoa, and Joey) from This Side Up were the most professional, careful, efficient, friendly movers ever. After they loaded the trucks we called the office to let them know how pleased we were with the crew and asked if the same team could do the unload, which was 2 days later in another city. The office made that happen and we are thankful for that. Move-in day the crew greeted us and then got down to work with the same careful, speed and efficiency! Thank you to Alvin, Kanoa, and Joey for making this move a pleasant experience! You guys are awesome!

Thanks Ethan, Bobby and Nate for a great unload!

Tim Nelson
15:11 15 Feb 21
Ethan, Nate and Bobby did an excellent and professional job unloading our 28 foot moving truck. Highly recommended.

Tim Nelson
19:54 13 Feb 21
Ethan, Nate, Bobby awesome dudes!!!!

elizabeth hudson
19:54 13 Feb 21
They helped my dear friend Pam move here from Florida. Thomas, Zach and Nate were very polite while they worked. Thank you!

Carol Nelson
19:57 12 Feb 21
Have used This Side Up Moving for various reasons in the past, and have always referred business to them. Ethan, Zac, and Kenneth were awesome moving my belongings from 2 different locations to my new house. They knocked it out in 5 hours, put furniture where I pointed, and were very courteous throughout the move. Highly recommend using This Side Up Moving for all of your moving needs.

Jimmy McColpin
20:56 11 Feb 21
This Side Up is a top notch company!! Thomas, Bobby and Zach made our day much easier and were ready to take on any task! Their professionalism and hard work is why I would recommend them!

Ericka Tipps
03:03 11 Feb 21
This Side Up helped us move into our new home. We had a great experience from start to finish and the movers (Prince, Ethan, and Mario) were very accommodating. Definitely recommend them!

Molly Kopuru
01:03 11 Feb 21
From my very first interaction to the last it was five star service! Everyone I dealt with in the entire company was very helpful and professional. Ethan and Jordan helped move my wife and I across town. They showed up on time and had us moved three hours!

Tyler Canoles
02:45 10 Feb 21
We had a great experience with This Side Up. Ethan and Jordan were very efficient and professional during our move!

Rebeccah Vickery
02:24 10 Feb 21
The guys with This Side Up Moving (Mandrell, Zak, Kenneth, Joey, & Ethan) did an amazing job with helping us move. They arrived on time and were very courteous both days of our move. They literally rolled out the red carpet! We couldn't be happier!

Courtney Kirkman
22:27 09 Feb 21
My wife and I recently used This Side Up and had a great experience. Mardrell, Zack, Nate and Joey stayed all day and night to help us move in. Very friendly and polite. Would recommend!

Lawrence Lybrook
23:11 08 Feb 21
Mardrell, Ethan & Zak were very professional & polite. Couldn't have gotten a better set of guys than these.

Brett and Tim made the move easy and quick. Thank you.

Jeff Norton
18:59 05 Feb 21
We recently moved out of state from Huntsville and chose This Side Up Moving to help us. Not only did we need their moving services but they also provided us with extended storage for those things we're not quite ready for. I can't say enough good things about the service from beginning to end. Matthew Street did a fantastic job in estimating and planning the three day move event. For the out of state move, Zack and Brett spearheaded this effort - loading, transporting out of of state, and unloading at the new location - and did an exceptional job! The move team was professional and excellent to work with. I'm looking forward to working with them again when the final move from storage to the new location takes place. I highly recommend This Side Up Moving!

Mary Wingo
13:48 05 Feb 21
This Side Up was very professional and efficient! Jordan, Mardrell, Zach and Ty came and helped us and they were awesome! Highly recommend!

Shawn Hollis
22:39 04 Feb 21
Alvin, Kanao, and Mario did a good job for us, were hard workers and made our move as smooth as possible. I recommend!

Amanda Merritt
20:18 03 Feb 21
I moved across Madison with these guys, and I am super happy with the way things went! I was treated with respect and professionalism from the first phone call to the last piece of furniture moved. I would highly recommend them, and I want to thank Colby and Kristy for handling the calls, and Jordan, Alec, and Nate for helping me with my move with less than a week notice. They saved my parents and me a great deal of time and effort. Thank you This Side Up!- Jonathan F.

I called this company super last minute as we were on our way to our new house absolutely exhausted from loading up the uhaul. They were able to send two guys that came and unloaded all the big heavy stuff for us! Best money we have ever spent! Our backs were saved and I will definitely call this company again and refer them for anyone needing movers!

Danielle Bell
18:42 24 Jan 21
Superior service. On time and accommodated difficult maneuver from storage units. Very courteous and friendly crew. I'll use them again. Recommended!

Gary Pedersen
21:08 15 Jan 21
These guys moved my Mom's furniture from Huntsville to Louisville, Alec and Brett were not only friendly and accommodating, but on the day they arrived both my Mom and my brother were in the hospital and they made a very very stressful day much less so. I can't recommend Alec and Brett enough. Ask for them.

tiffany ackerman
17:09 01 Jan 21