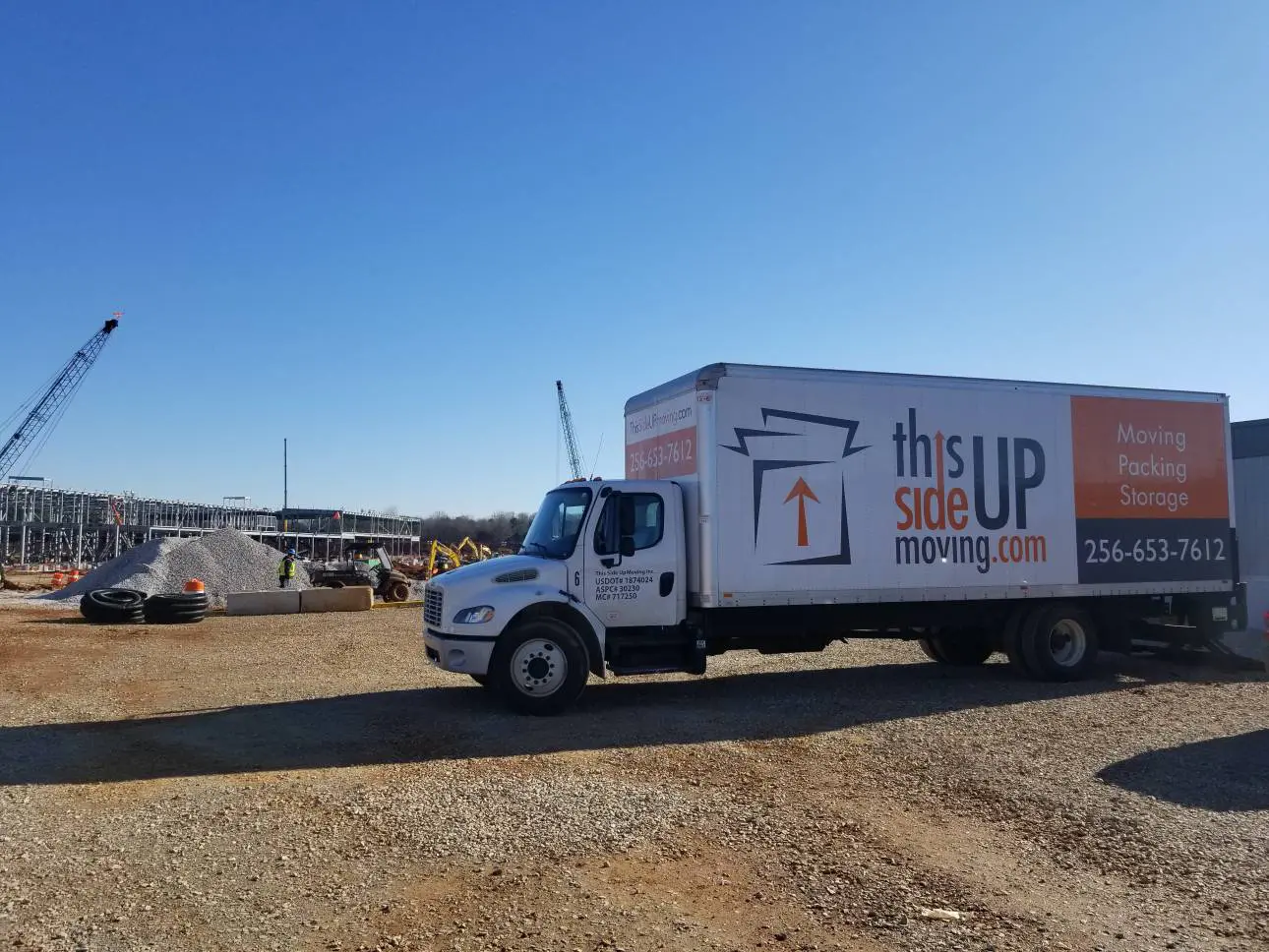 This Side Up Moving Company is a full service moving company that helps families and businesses relocate with ease. We are locally owned and operated from Madison, Alabama, and are also properly licensed, bonded and insured to perform residential and commercial moves within the 48 contiguous states. Condominiums, apartments, offices and homes of all shapes and sizes are commonplace in our world. Our years of experience, quality equipment and expert planning facilitates the preparedness that results in a successful move.
What to know about 

Big Cove, AL
Big Cove is an unincorporated community in Madison County, Alabama, United States. It is located roughly seven miles southeast of downtown Huntsville. Big Cove is located close to the quickly-growing Hampton Cove community.
Big Cove rests at the foot of Green, Huntsville, and Monte Sano mountains. It was named by John Clan Grayson, the first white settler and permanent resident of the area. It is bordered to the south by Owens Cross Roads, Alabama, whose zip code encompasses most of the community known as Big Cove. The northern area of the community, known by locals as the "upper end" is a part of the Brownsboro, Alabama, zip code, and has largely been annexed into the Huntsville City limits.
It was largely a farming community for many years; however, many of the old farms have been sold out of the families who had owned the land for generations, and subdivisions have begun to grow where soy bean, corn, and cotton, were once major cash crops.
When do people move?
About 45 million Americans move every year.
In 2016, Texas received the most movers in the U.S. but on average it is usually Florida.
The average American moves 11.7 times in their life.
Half of all moves happen between May and September, probably due to summer break and a lack of major holidays.
Friday is the most popular day to move on average.
Sunday has the least amount of moves on average.
The average number of boxes used in a move is 60.
The average household moves about 6,500 pounds.
Fill this form to get your free estimate!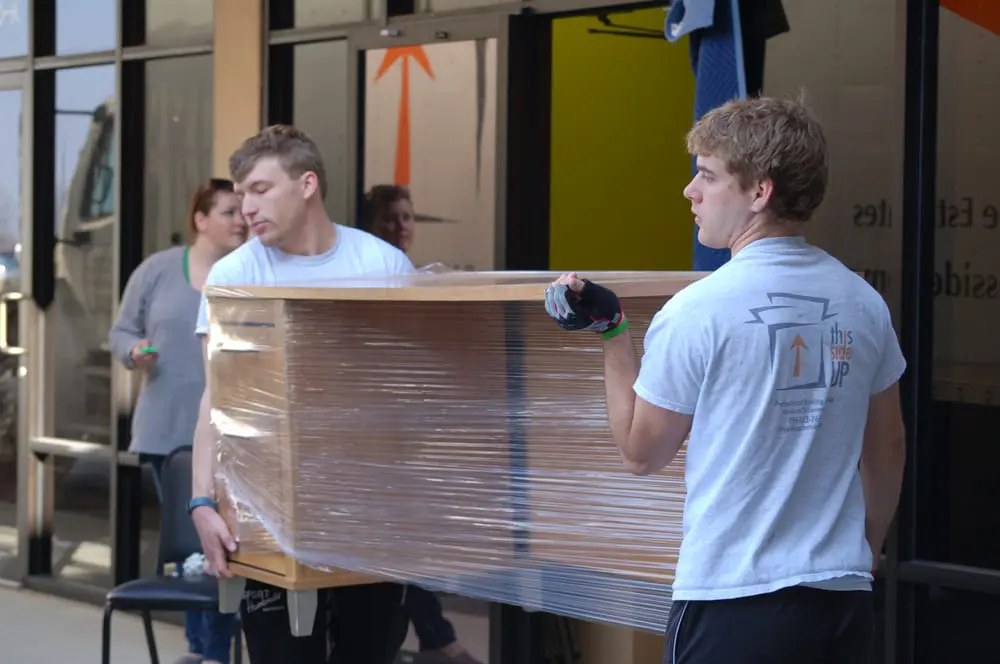 Testimonials of Our clients
All 5 guys on our moving crew had an amazing attitude, great work ethic, and ready smiles. We've moved. A lot. So, I have more experience than I'd like with moving crews. This Side Up sets the bar high. Eliot moved schedules and worked with the team to ensure we could get the dates we needed. The team was INCREDIBLE. They packed the entire house and loaded our truck. I can't say enough positive things about Antonio, Kobe, Jordan, Noah, and Kalai. I'd gladly work with all 5 of these gentlemen again (although I hope we're not moving any time soon!) Call This Side Up if you're looking for movers. Don't hesitate.

Unmanned Power
15:59 21 Sep 23

Jalmari Garner
23:53 16 Sep 23
Hi, We had a very positive experience using This Side Up Moving & Storage recently. They sent out their A team which was made up of Jordan, Noah, and Shai. These young men were very professional and courtesy in their efforts. I highly recommend using This side Up moving.

J.T. Durrett
18:16 11 Sep 23
From start to finish, I had an excellent experience. Shout out to Jordan, Noah and Carter for taking great care of my possessions!I highly recommend them and will use them again.

Ronald Daray
18:08 08 Sep 23
Very fast and professional

tony willoughby
00:15 31 Aug 23
Dylan and Kalai did a great job assembly our furniture! This company had availability right away when others didn't. Everyone was professional and did exactly what was agreed upon! Definitely would use them again if needed!

Crystal Thomas
15:33 23 Aug 23
Alvin, Kalai & Zack were so wonderful to work with. With the multiple stops and request by me on how I wanted the items stacked in my storage unit.They were all very helpful, kind & professional .and when I am ready to make my final move, I am going to use TSUM & specifically , that crew of 3!

Beth Hawkins
19:50 22 Aug 23
Dylan and Shai made my moving experience seamless! They were professional, went above and beyond, and gave careful attention to everything they loaded, transported, and unloaded. Even my friends who were present that day were impressed with their cheerful attitudes and willingness to help. I will continue to use them for all of my moving and storage needs!

Kim Garrison
15:04 21 Aug 23
Jordan and Shai were great, made sure everything was well protected and where I wanted it. Great company and great work from start to finish!

Blake Wendel
17:53 18 Aug 23
Dylan and Jeremy were FANTASTIC! Efficient, friendly, and could not have worked harder! Highly recommend!

Kelly Kaifer
23:36 12 Aug 23
Jeremy and Dylan did an amazing job. They communicated very well and ensured I was happy with everything multiple times before they left.

kayla conard
22:26 12 Aug 23
We have moved (15) times and this was the fastest, most professional group yet!Antonio, Shai, and Garrett were fantastic…will use y'all and recommend to our friends!

Ingram and Zach did a great job moving my staging items in between vacant homes. Thanks guys!!!

Gina Barlow
15:20 04 Aug 23

Lauren Roten
23:20 02 Aug 23
In 90 plus degree weather , I watched Antonio, Jay and Blake work their butts off. They were extremely careful with all of my belongings and they worked at a very nice pace. I couldn't be more happy with the services I received. Thank you This Side Up, I will be using you guys in the future.

Taylor Alford
05:03 01 Aug 23
Moving is so stressful, but this crew, led by Jordan, made the move fun and very manageable. I was really impressed by the crew. I never saw a single cell phone out. I never saw anyone lingering or even dragging, and it was 100° yesterday!!— You guys deserve a bonus — stellar job 🌟Thank you Jordan, team lead, Shai, Tyler N, and Kalaiali! Yo!

Ashlee Grove
14:58 28 Jul 23
My movers Antonio and George were excellent. They moved very efficiently and made sure all my furniture was well protected. Great experience with this company.

Brandi Woods
16:47 26 Jul 23
Antonio has helped me in the past and has always been so professional and is quick but efficient with his work. loved his service and how professional he is

Sierra Hamilton
16:29 26 Jul 23
Antonio and his group did AMAZING!! Fast movers and great personalities! They made it look like a breeze! Highly recommend!

rhyan eckert
16:19 26 Jul 23
Antonio & Jay were great! I would highly recommend them to any one who is planning to move!

Dylan and Jeremy came out and moved to two gun safes for me yesterday and did an outstanding job! They were very careful and professional. I highly recommend this company and their staff. Thank you for a job well done! Carl Herring

Carl Herring
14:02 21 Jul 23
Great job by Dashawn, Jeremy, and Clay! Made the moving experience much leas stressful and very efficient .

Beth Hofferth
23:21 17 Jul 23
Derrick got us started with a great process and close estimate. DeShawn and Jeremy were awesome. Good communication and professionalism from start to finish.

Robert Alley
19:17 10 Jul 23
The best! So glad I found "This Side Up"! From beginning to end it was a pleasure. Starting with the initial contact with their office (Kristy) and then moving day with Deshawn and Isaac! Highly recommend this company.

Lisa Eyster
19:57 09 Jul 23
Second time we have used This Side Up and I wouldn't hesitate to use them again. From the initial quote to the final item off the truck, it was as seamless as any move could be. Kristy kept in contact and was very tho in explaining what to expect the day of the move, and Alvin and Tyler were the BEST! They were professional, courteous, and knew what they were doing. Not one item was scratched or damaged and they wrapped everything and loaded and unloaded it in record time. I can't say enough good things about them and the company in general.

Shelley Brooks
00:11 28 Jun 23
This Side Up movers are extremely professional and the owners are great to work with. Colby is incredibly honorable and runs an honest business. You will not regret hiring these movers - they will take very good care of you and your items.

Amanda Peterson
22:48 25 Jun 23
I've used This Side Up twice, once for moving my parents and then to move myself, and I was thoroughly impressed both times. They were prompt and professional and very reasonable priced. I would most definitely use them again.

The young men could not have been any better; friendly and professional!!!Would like to add these names of movers that helped me which included Alvin,Antonio P, Kalai and Issac‼️

Mary Watson
21:38 14 Jun 23
isaac and dashawn where a big help today they did as i asked and were amazing 10/10 recommendations

Antonio P and Kaleb came to move us this month. We were extremely pleased with these two great men. Very pleasant and professional did a great job. Would recommend them for any job. Enjoyed being around them.

The Nabors
20:05 30 May 23
Kaleb and Dashawn did an amazing job helping me move! They were very polite, professional, and handled everything with care. I would totally recommend!

Claire Koenig
17:44 30 May 23
I work in an elementary school. Christian, Tyler, and Jordan had just finished unloading some things when they saw my teammates and I struggling to put some things in the dumpster. They stopped us and took over. We were so grateful. When coming back inside I passed by the room where they had unloaded a ton of big boxes. Everything was neat and orderly. All of the guys here today with This Side Up were so kind.

Jennifer Bateman
16:32 18 May 23
Christian, Tyler, and Jordan were moving materials at my school and saw me struggling to unpack my heavy things. They went the extra mile to help me throw away heavy things so I wouldn't have to lift it. They were so polite and helpful!

Samantha Oconnor
16:25 18 May 23
We chose This Side Up as our moving company and are delighted with our experience. Alvin and Kalai were the team that did the job. They showed up on time, very polite and didn't waste time. Both guys were careful with my furniture and also helped me by giving me their opinion on placing the items. Wonderful experience from start with Elliott who coordinated the move, his staff , Alvin and Kalai. My son will be moving soon and I will pass my experience with This Side Up onto him. Thanks again to all.

Yvonne Landry
15:28 12 May 23
Jay & Levi were absolutely amazing movers! They were extremely efficient, pro packers and CAREFUL with everything! Thank you guys!

Madelyn Jamelle
02:03 08 May 23
I'm so impressed with my whole moving experience. Zach and Dylan made this move so wonderful. They were on-time, looked over what needed to be moved and jumped right in. They worked great together throughout the whole move. I was also very impressed that they never seemed to run out of energy. Thank you for sending these workers to make my move, I couldn't be happier.

Rachael Rachael
20:51 06 May 23
Javon, Alvin, & Khalil were great.

Paul Mammana
02:14 25 Apr 23
Could not have asked for better service.

Ford Gates
19:43 23 Apr 23
We used TSU moving over the weekend and there is NO way to express the quality of workmanship, responsiveness and over all ability these two young men possessed. Dylan and Shy went above and beyond for us. I highly recommend them if you can get your choice. Thank you guys for an amazing job well done!

BRANDI JOHNSON
13:01 09 Apr 23
Dylan and Shy where all the above. Quick, respective, and pros at what they do.

James Not Bond
18:41 08 Apr 23
Dylan and Shy perfect and very professional and very fast. Please ask for them.

Joseph Johnson
18:33 08 Apr 23
I have moved 3 times since 2015 and I have dreaded it every time afterwards due to let downs and unreliable people. TODAY however changed everything Jordan and Kelvin went beyond above and beyond, they made any issues that arise feel irrelevant and adjusted so amazingly. Literally cannot form how grateful I am into words, if I have to move or need something moved will be requesting them only, they have a fan for life

Crystal Gaines
19:06 21 Mar 23
Great Customer Service!!By far some of the best customer service I've experienced since moving back AL a year ago! The entire staff is professional and has great bedside manner. I had a small move with less than 10 items, and they were very flexible in making sure we stayed within the timeframe that I was quoted. Derek stayed in touch with me for months to see if I had found a mover, and was persistent to earn my business. I'm also quite fond of Kristy who has incredible soft skills and went above and beyond to make sure I was happy, and the movers were very courteous and professional as well. I'm pleased with the outcome of my experience.

Starr N Amp
18:14 10 Mar 23
Very good, very professional. Highly recommend these guys.

Flournoy Gardner Jr
19:10 07 Mar 23

Gary Tuttle
00:09 07 Mar 23
As a military family, we have moved countless times with countless negative experiences, such as missing items and damaged furniture. However, Dashawn, Kanoa, Kaliyah were remarkably considerate, efficient, and careful during the entire 6 1/2 hour process. They wrapped furniture in both a blanket and plastic wrap, they kindly moved boxes to the correct room, and I never once saw them using their cell phone for personal reasons!!! Request this crew! Also, the initial experience with the office staff was pleasant. They were responsive and communicated professionally. Military discount was a nice touch!

Julie Norden
20:57 03 Mar 23
I want to start by saying we didn't know we could move in our house until the day before we needed unloaders & nobody could help us but This side up did & sent 3 men not just 2. From the start of communication on the phone with Derek until the last phone call with Matthew everyone was very professional & nice & just wanted to makes us happy in this very stressful time because we've definitely had alot of hiccups since October trying to move back to Alabama from Georgia. The 3 young men that unloaded our uhaul were amazing, Tye, Tyler & Asa thank you so very much for all of your hard work, you were very respectful, courteous, professional & just all around great young men. I would recommend this company to anyone for any of your moving needs! Thanks again guys!

Michelle Roberson
15:59 27 Feb 23
Easy to work with, friendly staff. Estimate was quick and accurate, scheduling was easy.The day of, Jordan, Shai and Nick were friendly and efficient. Jordan checked in with us and made sure we were happy with how everything was going. Very professional, and would recommend highly.

Asa, Nick and Dylan moved our furniture and boxes from storage into our new home. They worked safely and efficiently and didn't waste time. They were careful with our belongings and we didn't have any damage. They put furniture together and placed it where we wanted it. These young men were very pleasant to work with and were very professional. This wasn't the first time that we hired This Side Up. Their crews and service have always been superb.

Dianne Ray
15:02 04 Feb 23