This Side Up Moving Company is a full service moving company that helps families and businesses relocate with ease. We are locally owned and operated from Madison, Alabama, and are also properly licensed, bonded and insured to perform residential and commercial moves within the 48 contiguous states. Condominiums, apartments, offices and homes of all shapes and sizes are commonplace in our world. Our years of experience, quality equipment and expert planning facilitates the preparedness that results in a successful move.
What to know about 

Big Cove, AL
Big Cove is an unincorporated community in Madison County, Alabama, United States. It is located roughly seven miles southeast of downtown Huntsville. Big Cove is located close to the quickly-growing Hampton Cove community.
Big Cove rests at the foot of Green, Huntsville, and Monte Sano mountains. It was named by John Clan Grayson, the first white settler and permanent resident of the area. It is bordered to the south by Owens Cross Roads, Alabama, whose zip code encompasses most of the community known as Big Cove. The northern area of the community, known by locals as the "upper end" is a part of the Brownsboro, Alabama, zip code, and has largely been annexed into the Huntsville City limits.
It was largely a farming community for many years; however, many of the old farms have been sold out of the families who had owned the land for generations, and subdivisions have begun to grow where soy bean, corn, and cotton, were once major cash crops.
When do people move?
About 45 million Americans move every year.
In 2016, Texas received the most movers in the U.S. but on average it is usually Florida.
The average American moves 11.7 times in their life.
Half of all moves happen between May and September, probably due to summer break and a lack of major holidays.
Friday is the most popular day to move on average.
Sunday has the least amount of moves on average.
The average number of boxes used in a move is 60.
The average household moves about 6,500 pounds.
Fill this form to get your free estimate!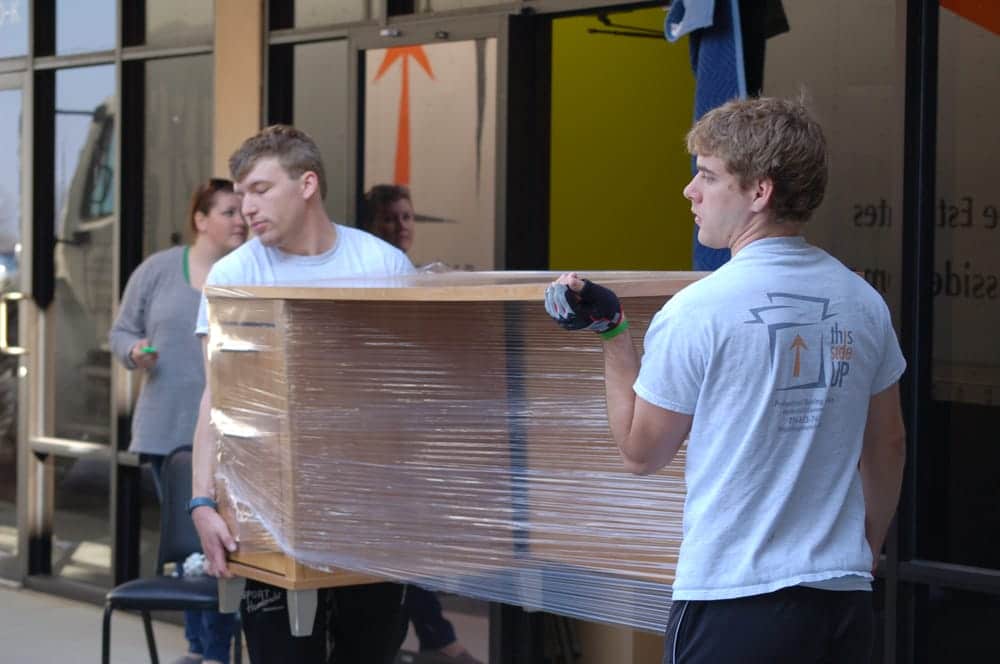 Testimonials of Our clients
Superior service. On time and accommodated difficult maneuver from storage units. Very courteous and friendly crew. I'll use them again. Recommended!

Gary Pedersen
21:08 15 Jan 21
These guys moved my Mom's furniture from Huntsville to Louisville, Alec and Brett were not only friendly and accommodating, but on the day they arrived both my Mom and my brother were in the hospital and they made a very very stressful day much less so. I can't recommend Alec and Brett enough. Ask for them.

tiffany ackerman
17:09 01 Jan 21
This is the second time that we have used This Side Up and they are they the best! Ethan and Jordan were professional, efficient, and great to work with. Hopefully we won't be moving again but if we ever do, we are calling them.

Maria Jenkins
01:06 24 Dec 20
Jordan B, Alvin, Kanoa and Waymon were fantastic. Very professional!!!

Sharon Wojasinski
01:57 20 Dec 20
This group was fantastic! We had Jordan, Alvin, Kanoa, and Waymon helping us out. Super professional, took very good care of our furniture, and just made the entire process so easy. I would recommend these guys to anyone!

Cody Wojasinski
01:56 20 Dec 20
Thank you Jordan B., Alvin, Kansa, and wayman for an awesome move. Very professional.

Sean Wojasinski
01:44 20 Dec 20
Mario and Brad did an awesome job in the short amount of time they were here.

paul brady
23:11 16 Dec 20
This Side Up did an excellent job delivering furniture for a couple who donated furniture to the New Leash on Life Huntsville Thrift Store & Boutique. Ethan, Ty, and Mario were most courteous, professional, and prompt in delivering the furniture. The furniture was wrapped in plastic and arrived in tact.Theywere easy to work with and were agreeable to do what was asked of them. Thank you for great service.

Jan Moragues
00:10 15 Nov 20
Awesome crew, Ethan, Dee and Nate are top notch movers. Very professional and hard workers. Would recommend to anyone!

Glenn Starnes
18:58 14 Nov 20
Had a fantastic move experience today from the This Side Up Moving team: Ethan, Ty and Mario. The young men were on time, professional and extremely efficient. The team moved several large furniture items to A New Leash on Life for me as well as load lots and lots of boxes and household items into our personal trailer. We live on a steep hill, but the guys kept going up and down like energizer bunnies! I greatly appreciate the way they wrapped and packed my donation items, and the care they used in moving my household fragile items. Great job team! I have used This Side Up Moving for other moves, and they have always done an outstanding job.

We used This Side Up Moving for a recent move to Athens,AL. Ethan and Tyler B helped with this move. They were very careful when moving our items and very professional in every way. They performed the move in the estimated time and for the estimated amount. We fully recommend This Side Up Moving and Ethan and Tyler B. helping with your next move.

Robert McClure, Jr
02:14 08 Nov 20
Tyler I. and Ethan did a great job for me. They were careful, courteous and professional. Thank you! I will use them again and recommend.

Patti Horn
17:42 07 Nov 20
this is the 4th time I have used This Side Up and they always go above and beyond my expectations. D and Joey were very courteous and respectful. They were prompt and never made any kind of mess. They were mindful of the yard and house. Great experience again!

Scott Joni Haas
18:17 06 Nov 20
This Side Up Moving was a very easy and straight forward experience. From creating an estimate and walk through with Colby to when the crew showed on time and executed the move. Ethan, Tristian, Tyler, and Dylan took time and professionally wrapped everything The crew was friendly, respectful and informed me of what they were doing along the way and always asked if they had questions or concerns. Everyone worked diligently for the 6 -7 hours they were there. They cleaned up and I paid them. No issues. Highly recommend Colby Robinson and the crew for any move in Madison AL.

Outstanding crew of Mardrell, Joey, Ty, Thomas gave us the best move we've ever experienced. They arrived on time, worked tirelessly, & carefully with our items to move to our new house. Pickup location was a tough one. They made it look easy. At our new home they were careful & made the effort to insure there was no problem with the new walls, floors as they completed a flawless move. These four men did an awesome job. After many moves with the military & industry I can finally say that yes, a perfect move can happen. In summary, the entire experience was positive from my initial request for an estimate to the cleanup the move crew did when done. You won't regret using this company.

chris Wheeler
02:36 05 Nov 20
Jordan B., Tyler I. and Mario T. were outstanding, professional and did great work. I would highly recommend these three gentleman and this company for any move.

Todd Cranor
17:36 04 Nov 20
I was so happy with Ethan and Tristian! They were very in tuned with the services needed and implemented the plan! I would use them again! Thanks This Side Up for getting me settled in my new place!!!!👍🏽❣

michelle jackson
17:37 03 Nov 20
This Side Up was very helpful and efficient. Ethan and Tristan got the job done in one fell swoop. Will definitely use This Side Up in the future.

Morgan McBride
16:31 23 Oct 20
Professional and safe team. Timely with knowledge of multi family move.Ethan, Jordan and Kenneth

Thanks to Ethan, Colton and Prince for help our move!!! Great job guys!

Brian Berry
16:26 17 Oct 20
We had a great experience with This Side Up Moving. From working with the front office (Colby, Cristy, and Mike) to the actual move (Ethan, Alvin, JJ, Mandrell, and Prince), we found the entire team to be very professional, courteous, and cognizant of our needs and concerns. If we ever move again, I will certainly call This Side Up!!! Note: I may have misspelled a name or two but wanted to give each person the appropriate praise deserved. Thanks!

This Side Up Moving went beyond what most companies do. They were very efficient and took care of my property as though it was theirs. I want to personally thank Ethan, JJ and Tyler B for and outstanding job. Ok

Donald Holder
20:13 15 Oct 20
De and Ben worked really well and very quickly. Would have been helpless without their wonderful help. Fantastically good humored, have saved this companies number would certainly recommend and use again.

Nathan Love
19:03 15 Oct 20
Wonderful, professional help from Dee and Ben. They called for arrival time, and completed the job in a timely manner. Great, friendly same day service. Highly satisfied.

Terri Love
19:03 15 Oct 20
Repeat customers! Awesome move every time!Ethan and Ben were very efficient and made the transition a complete success from one home to another! Will definitely continue to use this establishment as new chapters open in our lives!!!!

Rick & Sandra Holmes
20:03 14 Oct 20
Had the pleasure of using "This Side up Moving" a few days back with Ethan and Colton as my servicemen. They did a phenomenal job and I can't recommend this company more! Booking the service time and date went extremely smooth as well and the entire experience end to end was flawless. I have moved more times than I can count, and this experience was by far the best. Thank you Ethan, Colton, and entire support staff!

Melissa Harty
19:02 14 Oct 20
This side up moving was phenomenal. The process was easy and professional. Kristy was very kind and organized for all the scheduling. The team they sent were very respectful of us and our belongings. It poured rain for the load and the unload. Never heard one guy complain. They wrapped all furniture and handled with care. Great job by all.

Mike Middlebrooks
15:56 12 Oct 20
I should have contacted This Side Up Moving first. When my other movers failed to show up, I called This Side Up Moving. They got a crew out to help me load. Very polite and efficient movers. Would definitely use their services again.

Joseph Godlewski
14:36 12 Aug 20
Amazing service!! From the moment I spoke to Christy about quotes, to the three gentlemen loading up our truck for us to drive, there wasn't a moment my husband and I were unpleased with. There was never a time Christy became frustrated with us for asking for several different quotes, or a single time the guys loading us up weren't pleasant, hardworking and knowledgeable about packing a truck for a cross country move. This Side Up truly made our move easy and smooth... do yourself a favor and call them first.

Carol Lambert
22:29 11 Aug 20
I cannot say enough positive comments about this company. Promptly came and gave us an estimate and detailed communications about the process. Moving crew was very professional and took great care with packing and hauling all our belongings. Jordan, Nate, Alvin and Angel all went the extra mile to ensure that we were happy and our belongings were cared for. Very punctual and did exactly as promised. We will be moving our daughter in a few months and we will be using this company again!!!

Rick Holmes
11:39 25 Jul 20
Mardrell and Nate were great. ❤️

Savannah Phillips
03:34 22 Jul 20
We are very happy with the crew that came out today. mardell kirby, Tyler Ingram and Ethan Morris were great. They worked every minute they were here. Extremely polite and courteous. They packed our furniture with care and great attention to detail! I would highly recommend this company to anyone else and would especially recommend this crew!

Caroline Westfall
16:00 03 Jul 20
Recently Alec and Jackson moved my son to Pensacola from Huntsville. They were great!. My whole experience with TSU was excellent from the time I made the initial call to Colby until Alec & Jackson left Pensacola. VERY PROFESSIONAL! The whole team worked with us, even tho we had given rather short notice. The type of people you enjoy being around. Will definitely use on our next move!

Marie Kennamer
17:00 27 Jun 20
Jordan, Alec & Dylan were the BEST CREW ever! These guys were wonderful. They are hard working, sweet,funny, professional and experts at moving. They made a dreaded day delightful. They handled everything with exceptional care. I just can't thank them and This Side Up Moving enough! Thank you Jordan, Alec and Dylan for being absolutely fabulous! And, you're all cute too! We love you guys & we're so grateful for your outstanding work and skills! Thank you!

Ginny Collier
16:37 27 Jun 20
The movers, Mardrell Kirby and Colton (forgot his last name), did a GREAT job moving eight heavy pieces of furniture down some tricky stairs and landing. They even took on disassembling a task desk and removing a door just to get these and other bulky items out of the room. Once on the first floor, they staged furniture/items just right for donation pickup the next day. The rest they delivered to my storage unit and staged them in the right order as well! They were on time, worked within the timeframe of my estimate, and were cheery about it. They also laughed at my humor. From beginning to end, good job This Side Up! A+

Thank you for your great service. The young men that came to are homewere very respectful and careful. I would like to give them a 5 star.Thank you very much Beverly Foote

Beverly Foote
20:21 20 Jun 20

anadele desarme
17:51 20 Jun 20
I've used This Side Up twice within the last couple of years. Both times everything went smoothly. The people at the office are very professional, upfront, and flexible.This time around Ethan and Ben did an awesome job handling my recent move. Thanks again for everything!

Zach Barbeau
19:28 19 Jun 20
I am in the middle of an "intrastate" move requiring all of my belongings be put into This Side Up storage building until the house I am renovating is done.. I have been working with Kristy from day 1 and she has done literally everything she can to be responsive, to make sure I had everything I needed on move day including boxes, bubble wrap, tape, and was there to answer all of my questions. On moving day, Jordan B and Spoon were sent to my house and my 6 year old son instantly fell in love with them. Both guys included my son, kept conversation going as they were also doing their work, let my son look inside the back of the truck. By time they had left and I had my son in my car ready to go, he was calling Jordan and Spoon his "bro's" and would not stop going on about how awesome they were. That whole day will leave a big impact on him through the years! My stuff is now in their storage facility so I'm sure I will have more awesome stuff to add as time goes on. But I am absolutely impressed by every situation and conversation I've had with every single person at this company. Would highly recommend!!

Ethan and Kenneth were great movers. I was so pleased with the results. Not only was my furniture moved in safely, I also think we shared a few laughs along the way.

Banks Nelson
00:06 11 Jun 20
Our move was kind of last minute and TSU helped us get it done. Mardrell and Zach came out and done a quick assessment and got it all moved in a few hours - thanks guys.

ChiefOfMe52
00:21 03 Jun 20
My daughter needed to move from Madison, AL to Lubbock, TX recently. She was able to do her own packing, but we wanted a company which could move her belongings quickly to her new location. We arranged to move with This Side Up's smaller local service instead of the National Van Line they also offer.She wanted to be there before the movers got there, so she left a day early, and I handled the move on the Madison end. Deshawn arrived promptly, and he and his partner worked quickly, efficiently, and carefully. They were considerate and professional. They arrived in Lubbock just a few hours after my daughter did. They made a trip to the storage unit and then moved the rest of her things to her new 2nd-floor apartment.My daughter was very pleased and impressed with the quality of the move and the courtesy of DeShawn. She was so grateful everything went quickly and smoothly!The final moving cost was actually lower than the low end of the estimate I got when I planned the move with the owner and manager. Deshawn said she did a great job of packing and organizing her things, and I think that helped. But the men also worked quickly on both ends. I highly recommend this company for their professionalism, care, and efficiency! We would definitely use them again!

Julie Gobbell
23:46 02 Jun 20
I literally can't say enough good things about this company. I've had so many unpleasant experiences with moving companies in the past that every time I move I get a little skittish.. I am so happy I chose this company. I had the pleasure of having Madrell and Zack as my movers. To say that they are a powerhouse team would be an understatement, these young men moved my entire home with such passion and precision you would have thought that they were moving their own belongings. Madrell & Zack were on time (in fact a few mins early), professional, and the quality of their work should speak volumes for the entire moving industry. If you are looking for the best value for your money, choose this company. I promise you will not regret it.

Kevin Melvin
22:06 02 Jun 20
My husband and I had been in the moving business for over 40 years. This was the first time we were the shippers. Our crew was Shayne and Jackson. They arrived on time and were very friendly and professional. Our stuff is going to storage and we hope that we get them on delivery out. Thank you Shayne and Jackson for putting us at ease with your great attitudes and professionalism. We truly appreciate it.Thank you again!!Chip and Toni

So let me tell you a story about how we booked movers from Steadfast Moving who showed up on a 3 hour job, worked 40 minutes and bailed on us with no notice. The guys at This Side Up Moving completely stepped up the plate and bailed us out. I could not be more thankful or appreciative for their efforts, professionalism and courtesy. They helped us out of an extremely tight spot in the best way possible. Would absolutely recommend and use again.

Marcus Nichols
23:37 29 May 20
Spoon, tyler and Ben really came through for us in a pinch today and saved us.Our scheduled movers from steadfast movers worked 30 minutes on our apartment and ghosted us without even saying a word, up and left the job. abandoned Furniture in the hallway of the apartment, truck open, keys in it. total unprofessional job.This side up moving came in with a clutch rush job, got a crew of guys out there and these guys killed it. They were fast, organized, professional, clean, and courteous. I just have nothing but wonderful things to say. 10/10 recommend.

Steve Kraft
22:03 29 May 20
When we were able to return to our home after having water damage, Shayne, Nate and Jamaar were so great at moving us back in! We highly recommend them!

Angela Pettus
14:56 26 May 20
Mardrell Kirby and Nate were outstanding in our 3 bdm move! We were supposed to have 3 movers, but due to unforseen issues, it was just Mardrell and Nate. They quickly got to work, and never stopped moving. They were very careful with our goods and were very efficient at the same time. Can't say enough good about these movers!

jeffrey hart
00:38 23 May 20

Karla Parker
18:48 09 May 20
Recently, my wife and I had a 2-truck team help us with a big items move. We could not have been happier with their overall helpfulness, attitude, and professionalism. Each team member went over and above to make the move successful.Despite unforeseen hurdles like a steeply graded driveway preventing them from normal loading, they simply parked in the street below, hauled things down the grade, and never complained/never wavered in focus. This individual attention to detail/attitude reflected tremendously on ThisSideUp, as a company.We will be sure to recommend this company to anyone in our circle of influence needing help with a move.